New Town is a satellite planned area of Kolkata. It is situated on the north-eastern periphery of the city. A developing region, New Town is divided into three parts- Action Area I, II and III. It comprises a blend of residential developments, commercial cum retail complexes, corporate parks and institutional entities.
Prominent localities placed closer to New Town include Rajarhat, Kestopur, Salt Lake, Baguiati and Lake Town.
New Town is three times the size of Salt Lake, thus, has emerged as the second IT hub of Kolkata. Several Information Technology majors are already operational such as Erricson, Accenture, Capgemini, Tech Mahindra, ITC Infotech, Mindtree, Bengal Silicon Valley, Adani Labs,British Telecom. while others like TCS, Wipro and Infosys have been allotted space along with Cognizant.
Looking for a home in New Town? A place that is pleasing, with good connectivity, suitable surroundings, close to schools and hospitals nearby. Here is all the information you require. Read on!
List of top gated communities in New Town, Kolkata
1. Shapoorji Pallonji Sukhobrishti, New Town
Shapoorji Pallonji Shukhobrishti Spriha Phase 9 is a premium housing complex in New Town. It is complete with numerous modern-day amenities. It caters perfectly to the modern individual with needs that encompass both comfort and luxury.
If you are a young family with children you will definitely love the children's play area, and schools, nearby apart from other recreation facilities. Other provisions include access to health facilities, community hall, landscaped green gardens. There is a provision for closed car parking. Own a home in Shapoorji Pallonji Shukhobrishti if these are some of the facilities you are looking for.
Highlights and Amenities in Shapoorji Pallonji Sukhobrishti
Type of apartments: 1,2,3 BHK
Area per apartment: 450-970 sq. ft.
2. Elita Garden Vista, New Town
Elita Garden Vista is a residential society in New Town. The apartments here ensure sufficient flow of natural light & fresh air across the flat. Elita Garden Vista is designed to offer a relaxed & refreshing lifestyle. As the name suggests, it is nestled amidst blooming greenery of the gardens.
Elita Garden Vista has a luxurious clubhouse well-equipped with all the ultra modern amenities like, gym, swimming pool, indoor games and other sporting facilities. It also provides all the basic yet prime facilities like 24 hour water supply, power backup, 24×7 security and ample parking space, among others.
Highlights and Amenities in Elita Garden Vista
Type of apartments: 2,3 BHK
Area per apartment: 999-1742 sq. ft.
3. Clubtown Gateway, New Town
Clubtown Gateway is a thoughtfully planned society located in New Town.It is equipped with all the necessary amenities that make for a comfortable living. The society is enclosed within a peaceful environment that is suited for comfort and leisure. The project offers property apartments which are unparalleled when it comes to value for money and ultimate elegance.
Choose Clubtown Gateway as your home for amenities such as power backup, internet/Wi-Fi connectivity, DTH television facility, banquet hall, conference room, jogging and strolling track, event space & amphitheater, flower gardens, indoor games room, kids play area, among others.
Highlights and Amenities in Clubtown Gateway
Type of apartments: 2,3,4 BHK
Area per apartment: 1028-2246 sq. ft.
4. Curiocity Classic, New Town
Have you ever dreamt of living in Rome? Well if you have then Curiocity Classic is just the place for you. This society is designed with an interest in celebrating Roman architecture while making it luxurious and comfortable for the modern taste. Curiocity Classic is a unique composition carefully crafted to create amazing views from every aspect of the building.
Offering a great living experience, Curiocity Classic provides the best amenities such as mini cinema theater, premium branded fittings, cafeteria/food court, multipurpose hall, aerobics room, event space & amphitheater, meditation area, lift, indoor games room, kids play area, among others.
Highlights and Amenities in Curiocity Classic
Type of apartments: 2,3 BHK
Area per apartment: 664-1327 sq. ft.
5. JalVayu Tower, New Town
Jalvayu Tower is a well crafted residential society. The apartments offer plenty of benefits such as good connectivity, comfortable and lavish lifestyle, great amenities, and a healthy surrounding.
The amenities offered in Jalvayu Tower are 24hrs power backup, badminton court, club house, gym, health facilities, intercom, landscaped garden, library, maintenance staff, play area, rain water harvesting, security personnel and swimming pool. All these features together assure higher chances to relax, revitalize and relish the time at home. Apart from that, suitable security devices are installed to ensure safety to the residents at all times.
Highlights and Amenities in JalVayu Tower
Type of apartments: 2,3 BHK
Area per apartment: 850-1675 sq. ft.
Things to do in New Town, Kolkata
1. Dine at a height of 180ft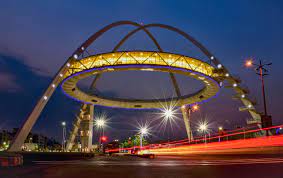 If you aren't scared of heights then definitely check out the dining facility at Biswa Bangla gate. Experience the thrill of eating in a floating restaurant at 180 ft. The experience is almost magical but be sure to reach the venue at least an hour in advance because the queue is endless and you might not get admission if the dining hour is over.
2. Spend your day at a museum
If you are an art lover then this place is definitely for you. Artsacre Museum of Bengal Modern Art is a lovely art gallery conceived and run by the celebrated Bengali artist Shubhaprasanna. The entry fee for the museum is Rs.20. The museum is three stories in total. Works of various Bengali artists are on display for the visitors to see.
3. Get some korean food
Nothing better than getting Korean food when you need that delish meal. Think of kimchi, Kimbap, bibimbap, and other meals of relish. If this seems like something for you then check out King's Bakery in New Town. The ultimate Korean experience when it comes to meals, maybe bread, buns or just Korean coffee, is right here. The owners also have traditional Korean hanboks for you at this cafe.
4. Immerse in the ultimate amusement park experience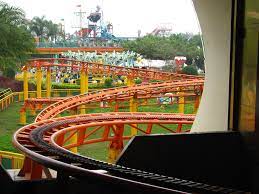 Nicco Park is one of the largest Amusement Parks in the country. It has almost 30 different Rides & Attractions. Wet-O-Wild, Nicco's Water Park has the best quality Water Slides, Wave Pool and other water based facilities. One can purchase or even hire swimming costumes besides hiring the lockers. If you love spending time around thrilling rides and the water parks then go here and have the absolute best time.
5. Unwind in the best possible way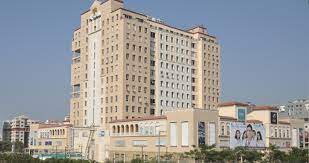 Need a break to unwind and relax? Then you need to spend a day at DLF Galleria, which is at the center of Action Area Phase-I in New Town. This considerably new space has the Country Roads microbrewery and a Bliss Spa. Go get your fill of a self care spa day and get drinks afterwards.
Places to visit in New Town, Kolkata
1. Eco Park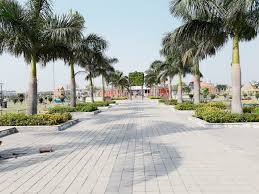 Eco Park is the largest park in Kolkata with a lot of fun stuff to do. Next time you are looking for something to do, head to this place and your day will be sorted. You can play on trampolines, go cycling, boating, get a tour of the entire park on a toy train, maybe a buggy, or just attempt the tour on foot. It has a huge water body on which you can go kayaking, speed boating, and land and water zorbing. Eco Park also lets you try your hands at ice-skating, archery and rifle shooting.The park also has a few cafes and restaurants in the compound for you to grab a quick bite.
2. Mother's Wax Museum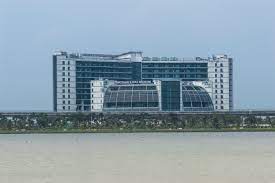 Just opposite Eco Park is The Mothers Wax Museum. It is known as Kolkata's Madame Tussaud's. It has become a popular spot for both- the locals and tourists. Taking pictures next to life-size models of many personalities is definitely fun. You'l find wax statues of freedom fighters like Mahatma Gandhi, Subhas Chandra Bose, Jagdish Chandra Bose, Rabindranath Tagore, Kazi Nazrul Islam, singers such as Manna Dey, Lata Mangeshkar and Kishore Kumar, actors such as Shahrukh khan, Salman Khan, sports legends like Diego Maradona and Sachin Tendulkar, and hugely popular movie characters including the likes of Harry Potter, Jack Sparrow, or the entire Avatar ensemble.
3. Nazrul Tirtha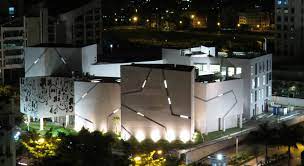 Kolkata and culture are almost synonymous so when you talk about Kolkata, it is impossible to leave out culture. Nazrul Tirtha is one such cultural and educational centre dedicated to poet Kazi Nazrul Islam. It is situated in Action Area 1, New Town.Nazrul Tirtha serves as a cinema hall and open air theater for exhibitions and performances.Since November 2015 this cultural heritage site has become the official venue for the Kolkata International Film Festival.
4. Rabindra Tirtha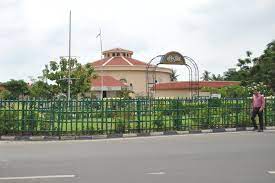 If you want a glimpse into the works of Rabindrnath Tagore without leaving the city then this is where you should go. Rabindra Tirtha is a cultural center in Narkel Bagan, New Town, dedicated to Rabindranath Tagore. The project has been developed by HIDCO. It houses an exhibition of Tagore's paintings, archives, a research center, an auditorium and dormitories for students opting to conduct their research on Tagore.
FAQs about New Town, Kolkata
How is New Town connected to the rest of the city?
Public transportation is sufficiently available through buses, taxis, auto-rickshaws and e-rickshaws. New Town Road, Aliah University Road, Biswa Bangla Sarani Road-NH-12 and Rajarhat Main Road, are some of the important roads that connect New Town to the main city.
How much time is required to reach the nearest Airport from New Town?
You'll require about 30 minutes to reach Netaji Subhash Chandra Bose International Airport which is located about 12 km from New Town.
Which are some of the educational institutions in the locality?
DPS, The Newtown School, Techno International, Narayana School and Aliah University are some of the prime educational institutions in New Town.
Which are some of the hospitals in New Town?
Some of the notable healthcare facilities in the New Town area are Ohio Hospital, Tata Medical Center, Sankara Nethralaya and Charnock Hospital.
Are there any places of entertainment in New town?
Several shopping cum entertainment destinations are located around the New Town area such as Axis Mall, City Center New Town, DLF Galleria and Aquatica Water Park.