Santacruz West is a quiet residential neighbourhood that is the perfect place to live if you love peaceful streets and a close-knit community. This locality in Mumbai has all types of housing options, from high-rise buildings to standalone bungalows and even paying guest (PG) accommodations.
It's an ideal location in terms of proximity to major employment hubs like Bandra Kurla Complex, Andheri East and Vakola, as well as being close to Bandra West, a vibrant neighbourhood with plenty of great food and entertainment options. That's not to say that Santacruz West doesn't have its fair share of great places to visit. There are amazing markets to buy Indianwear and fashionable clothes, superb restaurants like Tamak and Dynasty, nice parks and even a movie theatre in the area.
Are you looking to live in Santacruz West? We've rounded up some of the best housing societies and gated communities you could move into. Also read on to find out all that there is to do in the neighbourhood to know what staying in Santacruz West is like.
List of top gated communities in Santacruz West, Mumbai
1. Ekta Trinity, Santacruz West
A beautiful property with 82 apartments, Ekta Trinity is located very close to the railway station and multiple schools such as Podar, Rose Manor and Sacred Heart. It also has a number of amenities, such as a community hall, gym, indoor games and basement parking.
Highlights and amenities of Ekta Trinity
Area of apartment: 471 sq ft to 1250 sq ft
Size of apartment: 1 BHK, 2 BHK & 3 BHK
2. Mehta Lilium, Santacruz West
An upmarket property with 14 flats, this single tower community has expensive flats, with each selling for over Rs.50,000 per sq ft. The building has a clubhouse, gym and play area. It is also very close to one of Mumbai's foremost shopping areas, ie Linking Road.
Highlights and amenities of Mehta Lilium
Area of apartment: 947 sq ft to 1458 sq ft
Size of apartment: 2 BHK, 3 BHK & 4 BHK
3. Radius Sixty Four Greens, Santacruz West
If you want the best location in Santacruz West, this is it. Sixty Four Greens (64 Greens) is close to the top school in the area (Podar), Juhu garden, Muktananda Park and even Hi-Life Mall. The 42 flats in the building can also be very large, with the largest going up to 3000 sq ft+.
Highlights and amenities of Radius Sixty Four Greens
Area of apartment: 1198 sq ft to 3649 sq ft
Size of apartment: 3 BHK, 4 BHK, 5 BHK
4. Raj Rajkamal, Santacruz West
A typical Mumbai society, Raj Rajkamal has no amenities. However, the 36 1 to 3 BHKs in this complex are of a decent size and in a very good area (on Hasnabad Lane). It is close to the Khar Subway, both Khar and Santacruz railway stations.
Highlights and amenities of Raj Rajkamal
Area of apartment: 528 sq ft to 1327 sq ft
Size of apartment: 1 BHK, 2 BHK, 2.5 BHK, 3 BHK
5. Homestead Gardens, Santacruz West
A peaceful building in the poshest area of Santacruz West. Homestead Gardens also offers large apartments at a reasonable price in a 4 BHK format. The building is located on Convent Avenue, near a Domino's and very close to many landmarks such as Dynasty, Willingdon Catholic Gymkhana and Nice Kebab Corner.
Highlights and amenities of Homestead Gardens
Area of apartment: 2755 sq ft
Size of apartment: 4 BHK
Things to do in Santacruz West, Mumbai
1. Shop for fancy Indianwear
Santacruz West is one of the best places to shop for Indianwear for special occasions. Head to Saawree for lehengas, skirt and top sets, saris and fancy materials. There are tons of embroidered fabrics if you are looking to make an elaborate outfit. Lagna Sutra is another store that's perfect for wedding shopping. Here you will find a ton of options for men, too, such as kurtas and suits.
2. Indulge in North Indian food
Go to Tamak for delicious North Indian fare. This place may be small with just six tables but it more than makes up in taste. Try the mushroom naan bombs, Dahi ke kebab, lotus chips, stuffed kulchas, naans and dal makhani. For dessert, gajar halwa and jamun kulfi are must-haves.
3. Watch a movie at Gold Cinema in Milan Mall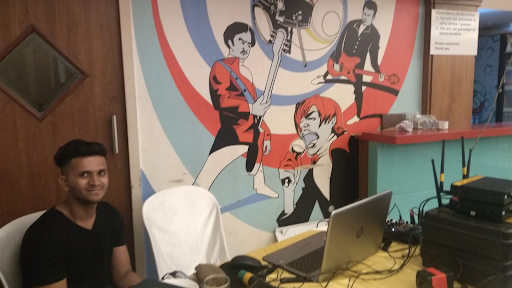 Movie lovers will appreciate this tastefully done multiplex with great screens and sound quality. You'll find all the latest films being screened here. There are plenty of great snacks on offer, making this a well-rounded entertainment experience.
4. Get a Gymkhana experience
If you know a member of the Willingdon Catholic Gymkhana, you can visit this private club as their guest. Here you will find a range of great facilities such as a swimming pool, restaurant, library, gym and more. Their restaurant on the terrace is especially lovely, where you can enjoy delicious food and drinks under the stars.
5. Work from a co-working space
If you need a change of scene from working at your office or working from home, Workbay is a nice coworking space in Santacruz West. It is in a quiet bungalow located close to Khar Station. The atmosphere is quiet and peaceful, with large windows overlooking trees. There is good WiFi, nice restrooms and coffee available here. It's the perfect place to get work done.
Places to visit in Santacruz West, Mumbai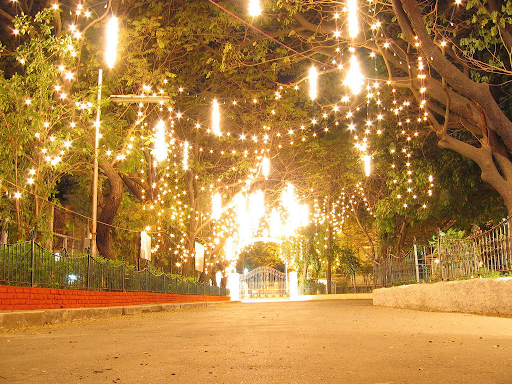 1. Muktanand Park
Muktanand Park is a lovely area to get in your daily number of steps. It's spacious and filled with greenery, making it perfect for a quick jog or slow stroll. There is a nice play area for children as well as an exercise area for adults. There's also a gazebo for those who want to do yoga or meditate.
2. Dynasty
Dynasty is an old-school Chinese restaurant that has been a favourite with residents in Santacruz West for decades. The food is delicious and consistent so you won't be disappointed. Try their crispy chicken, spinach chicken and fried rice varieties.
3. The Cake Fairy
If you are tired of generic store-bought cakes, The Cake Fairy will come to your rescue. Make your celebrations extra special with personalized designs and flavours. Here you can also buy yummy savoury snacks for your party.
4. Sushi & More
If you are craving authentic sushi and other Japanese delights, Sushi & More is the place to order from. This establishment delivers to Santacruz West residents or you can visit the store at Foodhall on Linking Road. Make sure you sample the Spicy Tuna Roll, Veg Teriyaki Roll and wholesome Bento Boxes
5. Cottage India Industries & Exports
Go here to shop for handcrafted jewellery, clothing and home accessories. Made by Indian artisans, you can find lovely kurtas and salwar sets for low prices. If you love embroidery work, there are plenty of beautiful pieces to choose from. The silver jewellery here is also intricately done and totally worth the price tag.
FAQs about Santacruz West, Mumbai
What is the distance from Santacruz West to the Mumbai International Airport?
The travel distance or driving distance between Santacruz West and Chhatrapati Shivaji Maharaj International Airport is 7.1 kilometres.
What is the nearest bus station from Santacruz West?
The main bus depot in Santacruz West used to be on Swami Vivekandanda Road, but it was recently shut down. There are of course bus stops around the suburb, but the nearest bus depot is in Santacruz East at the railway station or in Juhu.
Is there any metro station in Santacruz West?
Currently under construction, the metro station in Santacruz West is expected to be ready by 2025.
What is the best place in Santacruz West to hang out on weekends?
The people of Santacruz West spend their time shopping at Milan Mall, eating snacks at Raja Bhel Puri Centre, Nice Kebab Centre or Chinese food at Dynasty. If you're a member you could also visit Willingdon Catholic Gymkhana.
How to reach Santacruz West from Mumbai airport?
The quickest way to get from Mumbai International Airport to Santacruz West is by taxi which costs ₹150 to ₹200 and takes 20 to 40 minutes depending on traffic. There are also buses and rickshaws available from the airport to Santacruz West.
Is Santacruz West a posh area?
Santacruz West is a posh area to live in. There are many high-end properties to buy and rent. The roads are wide and good. The streets are quiet and lined with trees. There are many good restaurants, pubs, schools and stores in the area.
Is Santacruz West safe to stay in?
Yes, Santacruz West is a very safe residential area to live in. There are plenty of great buildings and bungalows in this area, many with their own security guards. You'll find stores, schools, clinics, restaurants and some offices throughout the locality, making it safe to hang about.
What are the best hospitals in Santacruz West?
The hospitals in Santacruz West include Sarla Hospital & ICU, Surya Hospitals, Mangal Multispeciality Hospital, B.C.J. Hospital & Asha Parekh Research Centre, Benz Hospital, Bhai Jassa Singh Memorial Hospital and Best Care Hospital.
What are the best schools in Santacruz West?
Some schools in Santacruz West are Podar International School, Harmony Montessori, Billabong High International School, St. Lawrence School, Arya Vidya Mandir, Sacred Heart Boys High School, Rose Manor International School.
Which are the parks in Santacruz West?
There are several nice parks in Santacruz West, including Muktananda Park, Saraswat Colony Park, Juhu Garden, Gajanan Bagwe Udyan and B. M. C. Garden.
What are the best gyms in Santacruz West?
Some of the best gyms and fitness centres in Santacruz West are Transform Gym Santacruz, Dessus Fitness, Neuro Fitness, JGS Fitness Centre, Body Buff Fitness, Size Wise The Fitness Studio, The Solitaire Fitness International and My Pilates Studio.
What are the police stations in Santacruz West?
Santacruz West Police Station is on Juhu Tara Road, Linking Rd, BEST Colony, Santacruz West. The contact number is 022 2649 3139.