Subhash Nagar is one of the newly upcoming localities in Delhi. Delhi is the National Capital Territory (NCT) of India. Straddling the Yamuna river, primarily its western or right bank, Delhi shares borders with the state of Uttar Pradesh in the east and with the state of Haryana in the remaining directions. Subhash Nagar is very well connected to the prime locations of the city. It connects major roadways such as Najafgarh. Some of the other well-connected roads are Major Sudesh Kumar Marg, Mahakavi Goswami Tulsidas Marg, Dr. Pushkarna Marg, and Block 5 Subash Nagar Marg. Railway stations such as Brar Square Railway Station and Madipur Metro Station are also in close vicinity to the locality.
The Indira Gandhi International Airport and Safdargunj Airport are the major airports that facilitate cross-border travel to far-off distances. One of the major attractions of Subhash Nagar is Rajouri Garden MIG Flats District Park. The presence of shopping outlets, schools, and religious places makes this the most sought-after real estate destination.
Wondering which society your future home might be in, where you can find good food, a school for your kids, or even spaces you could work out in? Read on to find out!
List of top gated communities in Subhash Nagar, New Delhi
1. Chawla CB Floors 2, Subhash Nagar
Subhash Nagar has one of the most enchanted localities in Delhi. Several newly build societies are set up in the area. Chawla CB Floors 2 is designed keeping in mind the esthetic surroundings. The planning is absolutely meticulously done so that you can enjoy the experience of belonging to a new community and a new lifestyle. Residents of Chawla CB Floors 2, can enjoy the touch of luxury in every corner. It's a place where style meets passion.
The society is manicured with green spaces with large scenic gardens that create an ambiance to rejuvenate your mind and soul. It is harmoniously crafted to fulfill the delicate dreams of many home seekers, giving rise to a new perception of lifestyle.
Highlights and Amenities in Chawla CB Floors 2, Subhash Nagar
Type of apartments: 2 BHK
Area per apartment: 900 sq ft.
No of flats: 3
2. Parsvnath Paramount, Subhash Nagar
Parsvnath Paramount society is built by Parsvnath Developers Ltd. They live by their name. Parsvnath societies are expected to have luxurious amenities with a huge build-up area. The residential flats are built in such as way that it has enough air and sunlight rushing inside them. Some of the prime important pillars such as connectivity, hospitals, and schools have also been paid a lot of attention to. The society is spread across 1715.0 – 3965.0 sq.ft. Some of the amenities provided at this location are Gym, Power Backup, Children's Play Area, Swimming Pool, Banquet Hall, and Maintenance Staff.
Highlights and Amenities in Parsvnath Paramount, Subhash Nagar
Type of apartments: 3 BHK, 4 BHK, and 5 BHK
Area per apartment: 1715, 2500, and 3965 sq ft.
No of flats: 113
3. Nagpal Affordable Homes, Subhash Nagar
Nagpal Builders in Delhi is one of the most renowned builders in the city. Nagpal Affordable Homes has launched some glamorous ready-to-move homes. These are medium size societies and have basic amenities with more privacy. The society has been designed keeping in mind the people of Delhi and their connectivity into consideration. If you are looking for a 2 BHK or a 3 BHK within an affordable rate in Subhash Nagar this should be one of your first choices.
Nagpal Affordable Homes is very well connected to the suburbs of Delhi. Prominent shopping malls, movie theatres, schools, and hospitals are present in the proximity of this residential project.
Highlights and Amenities in Nagpal Affordable Homes, Subhash Nagar
Type of apartments: 2 BHK and 3 BHK
Area per apartment: 540, and 1000 sq ft.
No of flats: 15
4. Sangam Homes- I, Subhash Nagar
Sangam Homes- I is one of the most modern residential development in the area. Sangam Homes-I is designed keeping in mind the most elite architectural designs that are affordable at the same time. The landscape around the project is designed in a very refreshing yet breathable manner. It is equipped with all modern amenities, the thoughtfully designed residences offer a complete contemporary lifestyle. It is located away from the hustle and bustle of the city making it a very peaceful area to live in. Every minute detail of the apartments is planned with great attention so as to ensure a pleasing experience of living. If you are planning to stay in a luxury home, then Sangam Homes- I is the best one to go for.
Highlights and Amenities in Sangam Homes- I, Subhash Nagar
Type of apartments: 2 BHK
Area per apartment: 900 sq ft.
No of flats: 4
Things to do in Subhash Nagar, New Delhi

1. Have a fun time playing Paint Ball
Subhash Nagar has one of the finest Paint Ball arenas, Lock 'N' Load Paintball. This indoor activity play arena is designed only for Paintball games. There are various packages to choose from. The obstacles are very strategically placed and defined to make the game of paintball fun. Next time you are in Subhash Nagar make sure you visit this place.
2. Go for Bowling to bust some stress
The finest 8-lane bowling alley with high-end graphic games, third-person shooting games, imported heavy-duty pool tables, dynamic air hockey, and much more. The bowling alley offers the best-engineered & highest-performing bowling alley. It is an ideal hangout area, it comprises no less than 40 arcade games, air hockey, pool table & a golf simulator, not to mention a bowling alley with 8-state of the art bowling lanes & to further up-size your excitement, you can even create your own private VIP bowling zone for special occasions.
3. Experience the 4D in PVR
Are you visiting the Pacific Mall today, your shopping is done and you are wondering what to do next? You can go to a movie and get a surreal 4D experience. The PVR offers an extremely realistic 3D experience that gets the excitement high while watching a movie sitting in a theatre. You would feel as if you are sitting on the shoot and experiencing all the 4D effects in reality. Next time you visit the Pacific Mall don't forget to try out this 4D experience.
Places to visit in Subhash Nagar, New Delhi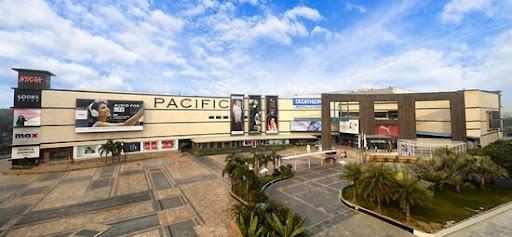 1. Pacific Mall
Pacific Mall is one of the largest malls in the area. The mall has over 250+ brands in its infrastructure. It has a perfect Outdoor Zone where the kids can experience some outdoor activities while you do your shopping. The mall is built in such a way that it has an adequate amount of breathing space and does not make it congested. There are several other things that you could do such as watching a movie in PVR, go for a salon session at Aashmeen Munjaal's Star Salon, or play simulation games at Hang Out.
2. Hang Out
Looking to do something fun? Head out to Pacific Mall and look for this amazing place called Hang Out. This place is full of a jungle-themed play area and a cafe for kids. Often used for playing various simulation games and partying, Hang Out also has an indoor play area that is specifically for babies, toddlers, older children, teens, and their parents. They could even help you host a private party to make that birthday a memorable one.
3. Looks Salon
Visit the Looks Salon to get your hair done. This is one of the most well-known salons in the area. Once you are done shopping and need some, 'me' time, this would certainly be the best option to unwind. You can find this place on the third floor. A relaxing session at Looks Salon will help you de-stress and re-energize. Try their manicure, or pedicure, or simply opt for a head massage!
FAQs about Subhash Nagar, New Delhi
How far is Subash Nagar from the City Centre?
The distance between Delhi City Station and Subhash Nagar is 12 kilometers.
What is the distance from Subash Nagar to Airport?
The travel distance or driving distance between Subash Nagar and Delhi Airport is 19 kilometers.
What is the nearest bus station from Subash Nagar?
Subash Nagar bus stand & Subash Nagar bridge bus stand are a few of the bus stops in Subash Nagar.
Is there any metro station in Subash Nagar?
Tagore Garden Metro Station and the Tilak Nagar Metro Station are the nearest metro stations to Subash Nagar.
What is the best place in Subash Nagar to hangout on weekends
You can go on a shopping spree at Pacific Mall during weekends with your friends and family.
How to reach Subash Nagar from Delhi airport?
The quickest way to get from Delhi Airport to Subash Nagar is by taking a metro. You can take a direct metro from the Delhi Airport to Subhash Nagar station and it would cost you just ₹50 to ₹80. Next is through a taxi which costs ₹400 – ₹600 and takes 1 hr.