Thiruvottiyur is a coastal neighbourhood. Located in the eastern part of Chennai, the place is known for amazing beaches and a balance between beauty and progress. The locality is home to a seafaring community and a thriving fishery industry. However, there is a clear presence of small to medium industries and two dedicated industrial districts Vyasarpadi and Manali. The locality is connected to the rest of Chennai through Manali high road, Buckingham canal road, Ennor express and highroads, Thiruvottiyur high road, and Kathivakkam high school road. All of the same are well maintained and available public transport options are abundant. The inhabitants also enjoy proximity to the metro, rail stations, and airport. The Washermanpet and Chennai Central railway stations are 8.5 and 13 km away through the shortest route. And reaching the Chennai international airport involves just a half an hour drive.
There is a generous supply of amenities. And the infrastructure is meticulously maintained by the authorities. The locality is home to many prominent healthcare facilities and schools that are prime institutions of finesse and are respected around the entire region. Together, the institutes, localisation, and maintenance make Thiruvottiyur the ideal location for settlers looking forward to a coastal living experience.
Top gated communities in Thiruvottiyur, Chennai.
1. Oyester homes Sakunthalavanam, Thiruvottiyur
The project is one of the best executed by the famous Oyester group Chennai. It consists of a single tower and the same is maintained meticulously. The community is guarded 24*7 and the amenities are uninterruptedly supplied. Due to the prime localization, the residents enjoy heightened connectivity through public transport. And the presence of major healthcare and educational institutes only makes the living experience more lucrative.
Highlights and amenities of Oyester homes Sakunthalavanam
Type of apartments: 2 BHK
Area per apartment: 625 sq. ft. – 760 sq. ft.
Number of apartments: 8
Address: 3/6, Saraswati Nagar, Tiruvottiyur, Chennai, Tamil Nadu 600019
2. AB Homez, Thiruvittiyur
AB homes Thiruvottiyur is a single tower offering ready-to-move apartments and occupies around .7 acres of land. The living experience is decent and the amenities including security are well-maintained. Facilities include Power Backup and fire Sprinklers. AB Homez MG Orchid is an Earthquake Resistant Structure. Like the rest of Thiruvottiyur, AB homes are also located amidst and bustle of industries and social service institutions. And the residential experience is fulfilling.
Highlights and amenities of AB Homez
Type of apartments: 2 BHK
Area per apartment: 740 sq. ft.
Number of apartments: 6
Address: 49/60, S Mada St, Tirumalai Avenue, Tiruvottiyur, Chennai, Tamil Nadu 600019
3. Hansa Gems Park, Thiruvottiyur
Hansa gems park is a massive project that flaunts 5 towers and occupies a prime location in Thiruvottiyur. The amities are maintained with utmost care and the community is guarded 24*7. The facilities include cricket pitches, basketball courts, cycling & jogging Tracks, closed car parking, and an RO water system. Therefore, the community and its offerings can offer a complete and detoxifying residential experience. And ample safety for settling down with a family.
Highlights and amenities of Hansa Gems Park
Type of apartments: 2 BHK, 3 BHK
Area per apartment: 1054 sq. ft. – 1441 sq. ft.
Number of apartments: 216
Address: 16, KCP Staff Colony, Tiruvottiyur, Chennai, Tamil Nadu 600019
4. Jayam Villas, Thiruvottiyur
Jayam villas are known for provisioning an elegant luxury living experience. The units are spread across a single tower and the attention to detail is remarkable. The amenities are available in an abundance and the place is guarded 24*7. Jayam villas are a well-decorated and furnished living experience and the balance between architectural prowess and comfort is astonishing.
Highlights and amenities of Jayam Villas
Type of apartments: 3 BHK
Area per apartment: 1032 sq. ft.- 1510 sq. ft.
Number of apartments: 4
Address: 58G2+FWX, Street Number 2, Shanmugapuram, Shanmugapuram Extension, Tiruvottiyur, Chennai, Tamil Nadu 600019
5. Radiance Flourish, Thiruvottiyur
Radiance flourish is a huge project that is still ongoing and expanding. The project occupies over 5 acres of land and is located near the metro station. In addition to that, the connectivity is bolstered by the Thiruvottiyur high road and frequent public transportation options. The amenities are well-maintained and the community is well-guarded by multiple layers of security. All 12 towers flaunt a high-quality build, and the residential experience is quite fulfilling.
Highlights and amenities of Radiance Flourish
Type of apartments: 2 BHK, 3 BHK, 4 BHK
Area per apartment: 608 sq. ft. – 1935 sq. ft.
Number of apartments: 395
Address: Thiruvottiyur High Rd, Bharathi Nagar, Tiruvottiyur, Chennai, Tamil Nadu 600019
Things to do in Thiruvottiyur, Chennai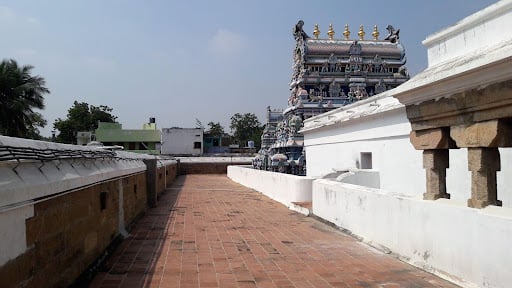 1. Relax in peace at St. Luke's church
St. Luke's church is not like a typical city church constantly invaded by the unwanted commotion. The place is quiet and calm. The area is huge and flaunts well-maintained greenery. The architecture reminds a visitor of medieval Europe. But the trans can soon be disrupted by the excellent interior decor and centralized air conditioning. A perfect destination to spend a lazy weekend evening in silence and contemplation.
2. Be amazed at Sri Lakshmi Hayavadhana Perumal Temple
At a glance, Sri Lakshmi Hayavadhana Perumal Temple might look like a typical ancient south Indian temple. But the temple is smaller than average and is located by the main road. The architecture stands out amidst the surrounding urbanization. And the cleanliness of the temple can amaze scientists working in sterile environments. The temple is maintained by public funds and is a refuge for local devotees and devotees from faraway lands.
3. Get lost in thought on the beautiful sea shores
Thiruvottiyur is a coastal neighbourhood and a fishing hub of Chennai. Naturally, the place is lined with beautiful and well-maintained sea beaches. Chennai beach, Kovalam beach, N8 and N$ beaches, Thiruvottiyur beach, Ennor beach, and Palagai Thotti Kuppam Beach are among the most prominent ones that attract a lot of visitors every single day. One can enjoy amazing sunrises and enjoy local seaside cuisine with a peaceful mind. Accompanied by the music of water, salt and wind.
4. Climb to enlightenment at Kumaran Kundram
Kumaran Kundram is a Murugan temple located amidst tranquillity and greenery. One must climb to the temple by taking an arduous number of stairs. And this test of devotion is well rewarded by the surroundings and architecture. The place is undoubtedly worth a visit, and the tiny investment of climbing all those steps is mandatory. One can enjoy a high-altitude temple environment away from the bustle and noise of the city.
5. Experience excellence at Royal Enfiled Motors
Royal Enfield is India's favourite two-wheeler manufacturer. Their engineering has endured a century of turmoil and two wars with the Indian army. Now they are making affordable and accessible motorcycles for the common Indians and at the same, they have no rivals. Thus, their factory in Chennai is bound to be the temple of finesse and discipline. The entry is not unrestricted but if the visitor has a purpose, RE never refuses them from in front of their gate.
Places to visit in Thiruvottiyur, Chennai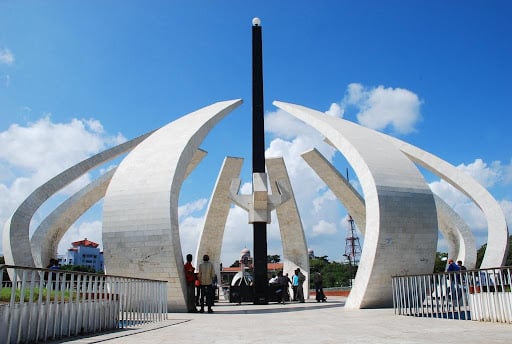 1. Thyagaraja Temple
The temple is among the largest temple complexes in the country. This ancient example of fine Indian architecture is still an attraction for devotees and atheists alike. The large 30-acre landmass can be accessed through nine gateway towers. And the tallest of them is 30 meters high. The temple architecture does wonderful justice to the stature of lord shiva in Indian myths. And the grandeur of Thyagaraja Temple is awe-inspiring.
Address: 576X+FJJ, Sannathi St, Gopal Nagar, Tiruvottiyur, Chennai, Tamil Nadu 600019
2. Vivekananda House
Vivekananda house in Chennai is an inspirational establishment. The house in the discussion was inhabited by Swami Vivekananda after his conquests in the west. Swamiji stayed here for 9 years and after Ramakrishna math was established in Chennai, they also used this building as an administrative building for ten years.
Address: Kamarajar salai (Marina beach road), Triplicane, Chennai 600005, India
3. S Bapathi St Church
A place of worship where peace could be found loitering in the wide corridors and oozing out of the doors and windows. The environment is pleasing and all the amenities that are needed for a great visiting experience are available in an abundance. There is ample parking space and the premises are peaceful and quiet. A must-visit for families, groups and lone travellers new to Chennai.
Address: 1, Sri Sabapathy Nagar, Sri Sabapathy Nagar, Thiruvengadam Nagar, Kolapakkam, Chennai, Tamil, Mrk Nagar-Tharappakkam, Chennai 600116.
4. Tuna harbour
Being a coastal neighbourhood, Thiruvottiyur is home to a thriving fishing community. The harbour is a busy one protected by two flanking artificial barriers. It is known to house a large number of fishing vessels and provide a perfect evening outing environment that amazes a visitor with grandeur and beauty.
Address: 5886+PFM, Tiruvottiyur, Chennai, Tamil Nadu 600019
5. Anna Memorial
it is a huge compound dedicated to the former chief minister of Tamilnadu, C.N. Annadurai? The area is a well-maintained park with plenty of recreational options and modern architecture. It is located at a prime spot for connectivity and is visited by a lot of travellers throughout the year. During the tsunami of 2005, the memorial was damaged and remained closed for a long time. But now, the Anna memorial is restored to its former glory and is open for visitors looking for peace and amazement.
Address: D6, Santhome High Rd, Navalar Nagar, Chepauk, Triplicane, Chennai, Tamil Nadu 600005
FAQs about Thiruvottiyur, Chennai
What is the distance from Thiruvottiyur to the airport?
The Chennai international airport is 33.2 km away from the locality via the Chennai-Trichy highway.
What are the best hospitals in Thiruvottiyur?
Thiruvottiyur's best hospitals are Akash & Sugam hospitals, the nearby Apollo hospital, and the government hospital.
What are the best schools in Thiruvottiyur?
Sri Shankara Vidya Kendra, Maharishi Vidya Mandir, government science and art colleges, and V Ramakrishna polytechnic college are the best schools and colleges in town.
What are the best gyms in Thiruvottiyur?
Challenger fitness centre, Necklace gym, national Power gym, Maxx Gym, Chennai fitness centre, versatile fitness, and Sky gyms are the best and most popular in town.
Is Thiruvottiyur a posh area?
Yes, indeed! The connectivity, healthcare, industries, and maintenance make Thiruvottiyur one of the best places to settle in Chennai.
Is Thiruvottiyur safe to stay in?
The Thiruvottiyur police station is the leading crime-fighting institution in the area. They are known for rapid responses and routine patrols. The crime rates are low and the people are very welcoming. Therefore, undoubtedly a safe place to reside in with family.