Tollygunge has been a primary tourist attraction in Kolkata because of the Bengali Film Industry. It is one of the posh areas of South Kolkata.
The locality has availability of quality infrastructure coupled with sound connectivity. Its developing interiors have become a hotspot for residential projects. The nearest prominent localities to Tollygunge are Kudghat, Netaji Nagar, Ranikuthi, Jadavpur, Golf Green, and Bansdroni.
Looking for a home in Tollygunge? A place that is pleasing, with good connectivity, suitable surroundings, close to schools and hospitals nearby. Here is all the information you require. Read on!
List of top gated communities in Tollygunge, Kolkata
1. Shankhmani, Tollygunge
Shankhmani is a residential property that is lavish and luxuriously designed. Almost all apartments are south facing and equipped with world class facilities to satisfy the needs of their prospective residents. Shankhmani apartments are designed with high quality interiors to give it a luxurious look suitable to lead a fancy lifestyle.
Shankhmani provides numerous amenities to its residents like power backup, swimming pool, banquet hall, gym, children's play area, library, water storage, air conditioned, kids play pool with water slides, barbeque pit etc. among others.
Highlights and Amenities in Shankhmani
Type of apartments: 2, 3 BHK
Area per apartment: 1277- 2032 sq.ft.
2. The One, Tollygunge
The One is a beautiful residential complex located in Tollygunge. The property comprises apartments which are enclosed within a peaceful environment. This society is a professionally conceptualized property and is visually appealing
At The One you get to enjoy various facilities and amenities, such as lift, flower gardens, meditation area, kids play area, indoor games room, aerobics room, outdoor tennis courts, jogging and strolling track, banquet hall, air conditioning. The One offers a contemporary chic lifestyle to its residents and is the perfect place to own your dream home.
Highlights and Amenities in The One
Type of apartments: 2, 3 BHK
Area per apartment: 862-1479 sq.ft.
3. Mani Vista, Tollygunge
Mani Vista offers luxurious apartments with world class amenities. This society has a pleasing appearance that would charm most buyers. Mani Vista is situated in Tollygunge. The location has good connectivity and is near Tollygunge metro station.
Mani Vista offers special amenities like rain water harvesting, water storage, waste disposal, club house, cafeteria & food court, bar & lounge and a private terrace & garden. Utilities like The Future Foundation School, Mahanayak Uttam Kumar station, N G Nursing Home, Rabindra Sarobar Metro Station bus stop, More – Aditya Birla Retail, State Bank of India ATM, The Arya Vaidya Pharmacy, Indian Oil petrol pump, Golf Green Central Park, etc. all lie within close vicinity of the society.
Highlights and Amenities in Mani Vista
Type of apartments: 3, 4 BHK
Area per apartment: 1771- 2364 sq.ft.
4. Merlin Verve, Tollygunge
Merlin Verve is a residential property located in Tollygunge. It provides a rare combination of lavishness and affordability to its prospective buyers. This society has a grand entrance lobby, a large beautiful clubhouse and a multipurpose hall. The apartments in Merlin Verve are earthquake resistant, and perfectly constructed as per vaastu principles.
You can enjoy the best facilities and amenities at Merlin Verve, such as cafeteria/food court, conference room, arts & craft studio, event space & amphitheater, lift, park, kids play area, among others.
Highlights and Amenities in Merlin Verve
Type of apartments: 4 BHK
Area per apartment: 2071 sq.ft.
5. Eden Tolly Signature Plus, Tollygunge
Favorably located in Tollygunge, Eden Tolly Signature Plus is a meticulously planned project with a keen eye for details.This society comprises apartments that are enclosed within a peaceful environment. Eden Tolly Signature Plus is beautifully crafted and is a sight for sore eyes.
Experience a fine lifestyle at Eden Tolly Signature Plus with amenities such as mini cinema theater, fire fighting equipment, barbeque pit, event space & amphitheater, indoor games room, indoor squash & badminton courts, kids play area, kids play pool with water slides, meditation area, recreational pool, etc.
Highlights and Amenities in Eden Tolly Signature Plus
Type of apartments: 2, 3 BHK
Area per apartment: 700- 1414 sq.ft
Things to do in Tollygunge, Kolkata
1. Dispose your e-waste in a proper manner
Hulladek recycling from Tollygunge provides end to end e-waste management solutions. Apparently, 95% of the e-waste recycled in urban slums is recycled without proper protection by untrained workers. Therefore, increasing the chances of human health hazards. In order to avoid this, Hulladek provides recycling functions, which include collection, segregation, shredding, recycling and treatment of the waste .If you have electronics, electrical appliances, and accessories that are damaged, obsolete or not of use to you anymore, raise a pickup request with them.
2. Get the beach and sea experience in Kolkata
Want to walk in sand and dip your foot in the sea? Want to try authentic seafood but have no time to take a vacation? Here's what you can do. Visit Sea-Estta Inn in Tollygunge. This restaurant takes the theme restaurant business to another level with beautiful beach vibes- sand and sea, street lamps, conch shells and everything else. Go to this restaurant for a romantic beach dinner or a hearty dining experience with your family.
3. Find your perfect party outfit
It is not difficult to find beautiful designer boutiques all over kolkata, one such designer that offers glamorous designer party wear is Devika Churiwal. With a flagship store in Prince Anwar Shah Road, Devika Churiwal designs exude glamor and luxury. The silhouettes include salwar suits, tunics, gowns, lehengas, jackets, dresses and contemporary wear, are clean with subtle drapes. Ladies, if you are looking for your next party look here is where you should be.
4. Indulge yourself with decadent cakes and bakes
Vanilla Bean is a cake shop in Tollygunge that specializes in decadent sweet treats, like cupcakes, cakes, pastries, cookies, donuts, brownies, celebration cakes, customized theme cakes, etc. It's a home-style bakeshop that maintains all the hygiene protocols. They provide door to door delivery all across Kolkata In case of a pre-order.
5. Eat your food without counting your calories
Binge Baefiker is a cloud kitchen in Tollygunge that offers healthy food options. You could opt for gluten-free, sugar-free, and ketogenic food off their menu.Their specially curated recipes comprise ingredients that are low in calories and glycemic and high in protein and nutrients. The best part here is their menu is not limited to one particular cuisine. They have a range of American, Italian and Indian cuisines, right from starters, quick bites to main course. So, now even if you have dietary restrictions eat befiker.
6. Pick a musical instrument of your choice
If you are a musician or a lover of musical instruments, you should definitely check out Roland Pro music in Tollygunge. This iconic old music store is a go to for all musical instrument needs. It is truly a musician's paradise with its diverse collection of musical instruments including keyboards and synthesizers, guitars both acoustic and electric, electronic percussion kits, digital recording equipment, amplifiers and audio processing devices. Don't miss out on this place if instruments are what you are looking for.
Places to visit in Tollygunge, Kolkata
1. Tollygunge Club
The Tollygunge Club popularly called Tolly, is a country club in India, located in Tollygunge.
Sir William Cruikshank established the club as an equestrian sports facility in 1895 to "promote all manner of sports". It is spread over 100 acres, with a clubhouse that is over 200 years old. The club grounds boast an enviable collection of flowering trees and tropical plants, many of which have been brought from far afield as Australia and South America.
2. Dacca Kali Bari
Dacca Kali Bari is a quaint Kali temple located at the base of Lake Gardens flyover on Prince Anwar Shah Road. Hindu goddess of power and re-creation, goddess Kali is worshiped here. Devotees of Maa kali from all over the world come to offer prayer here. Red hibiscus that is believed to be the favorite of the goddess is a must in all temple offerings. Aarti takes place in the evening, around 7 pm and is a must watch segment of the day.
3. Jute Museum
Jute Museum is located in the southern part of the city a little walk from the tollygunge metro station. This museum was established by the Indian Council of Agricultural Research and it displays various artworks, sculpture, made of Jute. This museum doesn't draw big crowds because not many people seem to know about the existence of this museum. But, it should definitely be more popular given the quality of the display
4. Rabindra Sarovar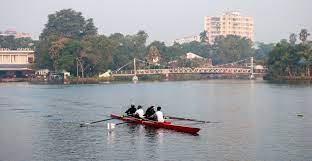 Rabindra Sarovar or Dhakuria Lake is an artificial lake in the locality. The lake and its surroundings are full of recreational complexes, such as children's parks, gardens, etc. It is one of the most popular recreational areas in Kolkata. A number of people come for a walk around the lake in the mornings to enjoy the fresh air. Many visit the sunrise point to offer their prayers to the sun. During the day, it is visited by families on a picnic, tourists, young lovers and joggers.
5. Royal Calcutta Golf Club
Royal Calcutta Golf Club was established in 1829 and is the oldest golf club in India and the first outside Great Britain. It is mostly flat terrain, with many natural water bodies with water lilies and largish greens. Apart from golf, it offers tennis courts and a swimming pool. The golf course is a green oasis in the city, and is home to foxes, snakes and mongoose as well as many birds.
6. Rajya Sangeet Academy
The Paschim Banga Rajya Sangeet Academy in Lake Gardens is an initiative by the state government and is set up as a cultural center. The academy organizes workshops and training programmes on classical music, light classical music and dance throughout the year. The academy campus has a lot of open space, with a pond inside as well. But what will attract you the most is the open-air amphitheater resembling a medieval Greek structure.
FAQs about Tollygunge, Kolkata
How is Tollygunge connected to the rest of the city?
The major roads which pass through Tollygunge are SP Mukherjee Road, Prince Anwar Shah Road and NSC Bose Road. These roads conveniently connect Tollygunge to the various parts of central, eastern and southern Kolkata. Trams, buses, taxis and auto-rickshaws also ply through this region offering alternative modes of transportation.
Which metro line is available to Tollygunge?
This locality is served by its own Mahanayak Uttam Kumar metro station- Blue Line.
Which is the railway station that serves Tollygunge?
Tollygunge Railway Station is the primary railway station of this locality. In addition, the important Sealdah Railway Station is at a distance of 9.5 kms.
How far is the nearest airport from Tollygunge?
Netaji Subhash Chandra Bose International Airport is at a distance of 23 kms from Tollygunge.
What is Tollygunge famous for?
Tollygunge Golf Club, Royal Calcutta Golf Club and ITC Sangeet Research Academy, are amongst the major attractions in Tollygunge.
Which are the major schools and hospitals in Tollygunge?
There are many schools and hospitals in and around Tollygunge. Some of the notable ones are- South City International School, Tollygunge Girls High School, G.D. Birla Center For Education, M R Bangur Hospital, RSV Hospital and Tapan Sinha Memorial Hospital.
Does Tollygunge have a mall?
The famous South City Mall is at a distance of 2 km from Tollygunge.