It is no wonder that Hyderabad ranks among the most sought-after Indian cities to live in. On the one hand, you have a rich cultural heritage that dates back to the Mughal era, replete with awe-inspiring Islamic architecture and traditional cuisine that has its base on recipes that date back a few centuries.
On the other hand, you have an ultra-modern city, poised to be a global leader in technology, choc-a-block with the biggest brands, a melting pot of international cuisine to choose from, and an education system that's on par with the best in the world, efficient infrastructure and a nightlife that is second to none.
If you're considering making this city your home or investing in some real estate, we've curated a list of six top gated communities in Hyderabad for your perusal.
1. Rainbow Vistas- HiTech City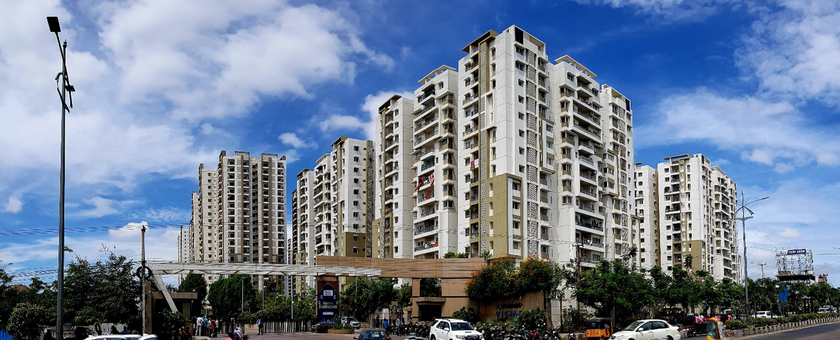 There are multiple reasons why Rainbow Vistas features on our list of the best gated communities in Hyderabad. The property boasts over 2000 apartments spread over a vast area of 22 acres, making it one of the largest gated community apartments in Hyderabad.
Flanked by two lakes and ample breathing space for residents, the property has 2, 3 and 4-bedroom luxury apartments with a host of amenities. The sizes of the apartments range from 1250 square feet to an uber-spacious 3000 square feet.
The amenities comprise everything from a clubhouse and an air-conditioned gym to a host of indoor and outdoor sports as well as a supermarket, pharmacy, coffee shop, spa, beauty parlour, modern security systems and more, making the property pretty much self-sufficient.
2. My Home Navadweepa- HiTech City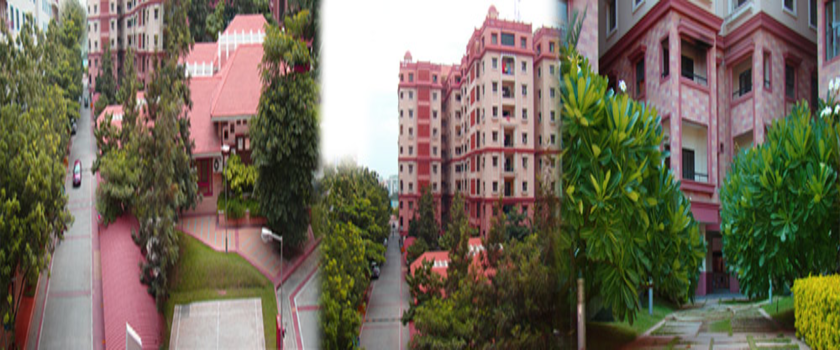 Among the city's hustle and bustle, My Home Navadweepa offers residents much-needed space and fresh air, making it what many call the best society in Hyderabad to live in. The property features four fabulous high-rise towers that house a select 556 units.
Apartment sizes range from cosy 2-bedroom apartments to more spacious 3-bedroom and 5-bedroom apartments. The price of an apartment here varies between INR 9,000 per square foot to INR 10,000 per square foot.
These homes feature plenty of natural ventilation, premium fittings and top-quality flooring across all rooms. Among the amenities offered to residents are an enormous clubhouse, a cycling and jogging track, a swimming pool, power backup, plenty of garden spaces, ample parking spaces for residents and visitors and round-the-clock security.
Considering the additional benefit of proximity to some of the city's well-known educational institutions and medical services, it is no wonder that My Home Navadweepa features on our list of the best gated communities in Hyderabad.
3. Divine Allura- Chandanagar
Divine Allura is a gated community apartment complex in Chandanagar spread over 5 acres. It makes our elite list of gated communities in Hyderabad because of its amenities.
Divine Allura has world-class amenities, such as a swimming pool, clubhouse, top-of-the-line security and a creche for toddlers. A few other facilities over here include a children's play area, ample parking space, a bank with ATM facilities, power backup and much more.
Another endearing feature of this property is that it has eight towers with only five floors each. These towers house 397 2 and 3-bedroom apartments, ranging in size from 1074 square feet to 1722 square feet. The average cost of these apartments is pegged at approximately INR 3,699 per square foot.
4. Elegant Floatilla- Manikonda
Elegant Floatilla in Manikonda has multiple features to make it qualify as one of the top gated communities in Hyderabad.
It is located in a prime locality, on the 80-feet ring road in Manikonda. The property is spread over 4 acres and features only 282 exclusive units. So residents have plenty of green space and do not have to bother about being close to each other. The property boasts six towers, each of which is only five storeys.
The sizes of the luxurious 2 and 3-bedroom apartments in Elegant Floatilla range from a spacious 1300 square feet to a staggering 3240 square feet.
The amenities offered at Elegant Floatilla include a swimming pool with a children's pool area featuring slides, a gym, an ATM, power backup, ample parking space, RO water systems, indoor and outdoor sports/gaming facilities, a banquet hall, library and more.
5. Aparna Cyberzone- Nallagandla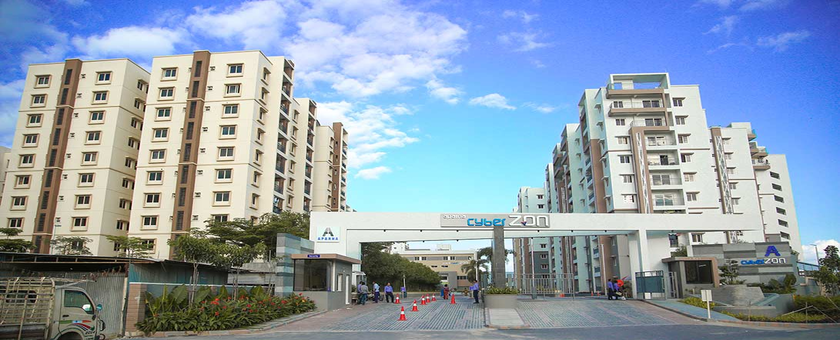 Aparna Cyberzone is spread across a sprawling 21-acre campus, in which it houses 1350 apartments across 21 towers with 10 storeys each.
The apartments at Aparna Cyberzone are available in 2 and 3-bedroom variations and vary in sizes from 1245 square feet to 1855 square feet. The promoters of this property claim it features a blend of traditional values and modern architecture.
Aparna Cyberzone features enough modern amenities to make it a self-reliant gated community. It has supermarkets, outdoor and indoor play areas, a basketball court, a badminton court, a swimming pool, a community hall and more.
Additionally, Aparna Cyberzone is well-connected with public transport and offers luxurious living at affordable prices, making the property more appealing. Here, the 2-bedroom apartment costs about INR 56 lakh, while the 3-bedroom ones are about INR 90 lakh.
This perfect blend of affordability and opulence is why Aparna Cyberzone features on our list of luxury gated communities in Hyderabad.
6. Hill Ridge Springs- Gachibowli
Located amid Hyderabad's IT hub, Hill Ridge Springs has been developed by IVR Prime Urban Developers and features 16 towers with 11 floors, each spread over 4 acres of pristine land.
The builders have infused modern architecture with Feng Shui and Vastu principles, which shows in multiple aspects of the property, from how the homes are designed to the thoughtful walkways, rock gardens, water bodies and more.
Residents can choose from 2, 3 and 4-bedroom apartments, the sizes of which range from a comfortable 1100 square feet to a sprawling 3700 square feet.
The list of amenities matches the world-class build quality. It includes a separate service lift for staff and deliveries, professionally maintained gardens, walkways, a swimming pool, outdoor tennis courts, a basketball court, a huge clubhouse and more.
Depending on the size of home you choose and whether you opt for a renovated, redesigned or fully furnished home, expect to spend anywhere between INR 60 lakh to INR 2 crore for an apartment over here.
With its proximity to IT offices, world-class hospitality and entertainment, some of Hyderabad's best educational institutions and top-notch medical facilities, Hill Ridge Springs in Gachibowli deserves its spot on our list of the best gated communities in Hyderabad.
Why now is a great time to invest in Hyderabad
We all know the real estate market has slowed down over the last couple of years because of the pandemic. However, with life slowly regaining some semblance of normalcy, the Indian economy is touted to grow by at least 9%. Experts predict the real estate market will increase by 20% to 30% in the near future.
Hyderabad as a city is fast becoming one of India's commercial strongholds, thanks to its booming IT industry. This means there's an influx of people from across the country and other parts of the world moving to Hyderabad to take advantage of the opportunities the city has to offer.
Considering the city already has a well-planned and efficient infrastructure, some of the country's best educational institutions, world-class medical care and a vibrant lifestyle that encompasses the best of old-world traditions and charm as well as modern accessibility and convenience, now seems to be the best time to invest in Hyderabad's booming real estate market. Our list of the top societies in Hyderabad should help you decide which sought-after property you ought to invest in.
About MyGate
MyGate is India's largest society management app, benefiting thousands of housing societies, developers, society facility managers, and millions of homeowners in every Indian city.