There is no shortage of options for purchasing luxury apartments in Chennai in 2023. The Chennai property market is flooded with luxury developments across locations, making it tough to choose.
If you are looking for the best apartments in Chennai that offer class and luxury, here is a list of the top 10 apartments.
1. Casagrand Olympus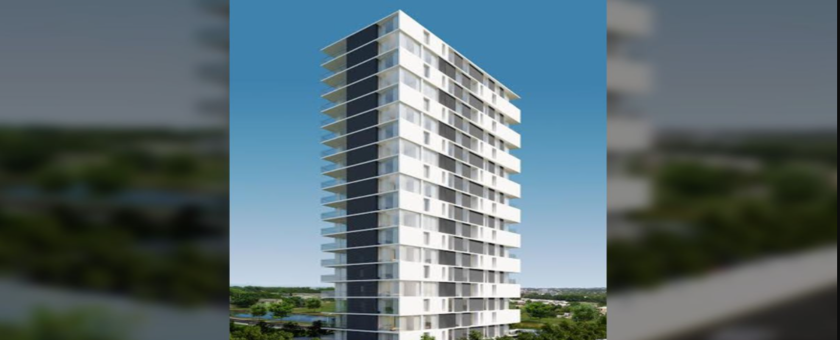 The Casagrand Olympus is a high-end project in Mandaveli, Teynampet, with easy access to important roads such as the St Mary Road. The project is spread over an area of 0.49 acres. Developed by Casagrand, one of the city's most experienced, the project is now midway through to completion.
Notable features:
Only two apartments on each floor.
All units have ventilation from three sides.
Breathtaking views of the sea and the Adyar river.
Italian marble was used in making the foyer, living room, lounge, and dining room.
Amenities:
Gymnasium
Power backup
Indoor games
Elevators
2. Ozone The Gardenia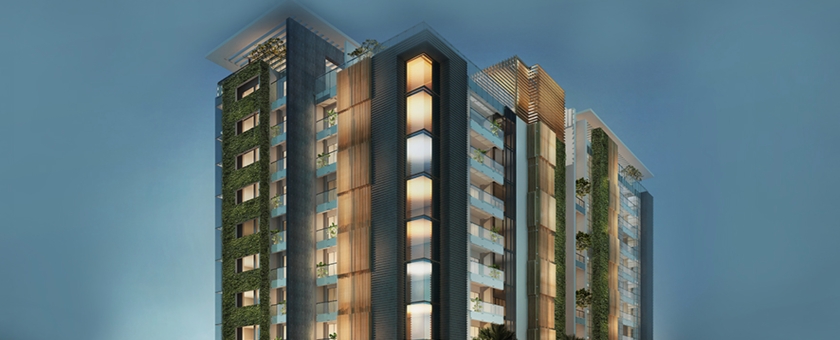 Ozone, The Gardenia offers premium apartments in Chennai. The location is well-connected by main roads such as the Chennai Bypass Expressway, Poonamallee High Road, and Konnur High Road. Ozone The Gardenia occupies a total of one acre of land. As the name suggests, the project is built by Ozone, a well-known developer in Chennai. It consists of 32 units, with the 4-BHK apartment units priced at INR 6.50 Cr, measuring 3640 square feet in size.
Notable features:
RCC substructure is supported by a pile foundation.
Lift lobby – Marble or equivalent wall covering.
Green walls, foam concrete, glass, and louvres as exterior finishes.
Lobby false ceiling made of gypsum.
Amenities:
Swimming pool
Gymnasium and sauna
Kids' play areas/sandpits
Power backup
Rainwater harvesting
Clubhouse
Indoor games
3. E-Residences
E Residences is a premium residential development located on Club House Road in Anna Salai, Chennai, next to the Express Avenue Mall in Royapettah. The property is situated in the centre of the city and consists of 5 striking towers that house 153 Uber Luxury air-conditioned apartments, with sizes ranging from 3000 square feet to 6500 square feet.
Notable features:
330 degree ventilation & expansive balconies
5 eye-catching towers on a 5 acre estate
Amenities:
Swimming pool and toddlers pool
Gymnasium and sauna
Children's play area
Power backup
Coffee shop
Health club
Indoor games
Multipurpose hall
Courts for badminton and tennis, etc.
4. Olympia Sky Villas
Olympia Sky Villas, located in Navallur, is an exceptional project created by Olympia. The 4-BHK apartment units, priced around INR 5.00 Cr, are the Jewels in the crown of Olympia Sky Villas. The location is easily accessible by major roads like the East Coast Road, State Highway SH 49, and the OMR Road. Besides world-class facilities, there are 18 units in the project currently which are all ready to move.
Notable features:
Plunge pool and home automation in every unit.
18 premium duplexes with one exclusive entrance per floor.
Living, drawing, and dining areas with imported marble flooring and bedrooms with designer wooden flooring.
Amenities:
Gymnasium
Café/Coffee bar
High-speed elevators
Reading room/library
Conference room
5. Olympia-Park Residence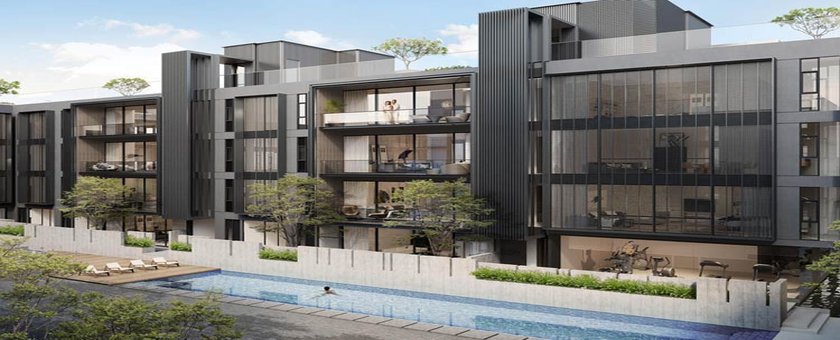 Located at the heart of Kotturpuram, one of the most affluent and posh neighbourhoods in Chennai, Park Residence – By Olympia covers an area of one-acre-plus land. A brilliant specimen of architectural brilliance, this project has on offer some of the best luxury apartments in Chennai. The 3-BHK units are priced at INR 6.64 Cr and occupy an area of 2766 square feet. The 4 BHK flats, on the other hand, are priced between INR 7.99 Cr and INR 12.33 Cr.
Notable features:
A total of 31 residences spread over three floors.
Reinforced concrete structure.
Amenities:
Swimming pool
Gym
Party lounge
Landscaped terrace
Power backup
Clubhouse
6. Kalpataru One Crest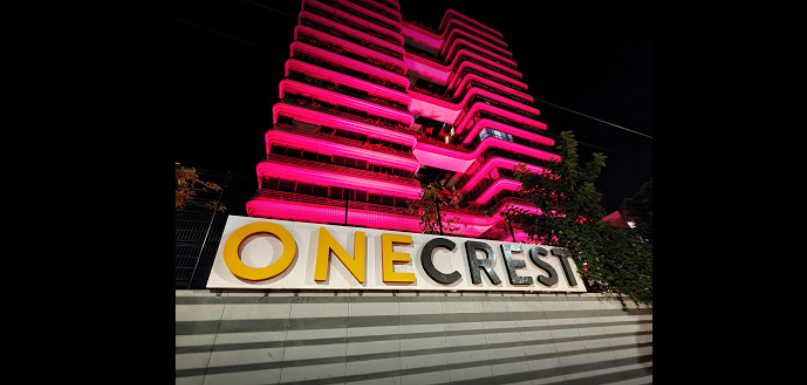 One Crest project, located in Nungambakkam, Chennai, has been built by Kalpataru Limited, an award-winning real estate company. The project boasts a tower with AC duplexes and a grand entrance lobby. The 11-feet-high ceiling, designed to allow natural light in, is truly spectacular. In addition, the project includes a total of 43 units. The spacious 4-BHK apartment units are valued at INR 9.5 Cr and occupy 3800 square feet. The 5BHK+5 Units, with a size of 5777 square feet, are priced at INR 14.44 Cr.
Notable features:
Marble flooring.
100% Vastu-compliant project.
Stretched out sundecks.
Amenities:
Swimming pool
Gymnasium
Aerobics/Yoga room
Elevators
Intercom facility
Jacuzzi
Power backup
Landscaped gardens
Community centre
Rainwater harvesting
7. Akshaya Homes Abov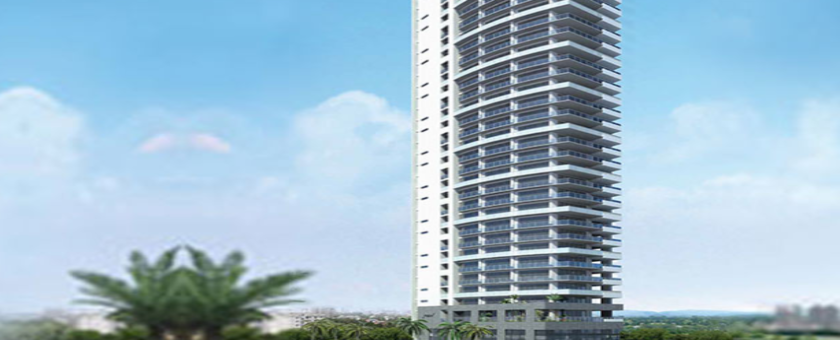 Akshaya Homes is a well-planned and intelligently built residential complex in Chennai's Maraimalai Nagar neighbourhood. The project combines attractive designs and contemporary architecture with well-ventilated and spacious apartments. The 4-BHK apartments range in size between 6000 and 6514 square feet. Furthermore, the unit size of the 5-BHK apartments is roughly 10887 square feet.
Notable features:
A total of 31 residences spread over three floors.
Reinforced concrete structure.
Amenities:
Swimming Pool
Spa
Aerobics room
Squash and tennis courts
Cycling and jogging tracks
Clubhouse
Indoor games
8. TVH Quadrant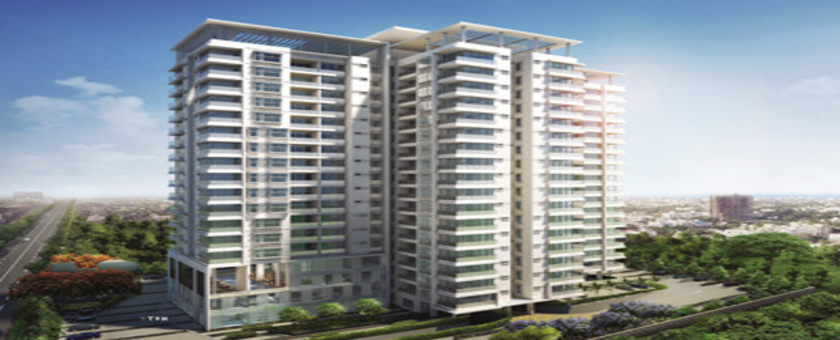 TVH Quadrant, a beautiful project created by the Chennai-based TVH, covers an area of 2.5 acres. The project is located in Shastri Nagar, Adyar and is well-connected by roads such as Kalki Krishnamurthy Road, Durgabai Deshmukh Road, and Anna Salai Mount Road. There are 126 units in the project; out of these, the 3-BHK apartments are available for INR 4.36 Cr with property sizes ranging from 2235 square feet to 3260 square feet. The property also offers spacious 4-BHK apartments, between 3595 square feet and 3615 square feet in size. If you are looking for High Rise Apartments In Chennai with a spectacular view, you now know where to look!
Notable features:
Italian marble floors.
Decks with floor-to-ceiling windows and imported fittings.
Amenities:
Gymnasium
Power backup
Swimming Pool
Home automation
Spa
Clubhouse
Indoor games
9. Arihant Housing Jashn
Arihant Housing Jashn is a magnificent project built by Arihant Foundation, a renowned developer in Chennai. The project is located near Egmore, Royapuram and is well-connected by important roads. Offering some of the most premium apartments in Chennai, there are, in total, eight units, all of them marked ready to move. For those interested in buying a high rise apartment in Chennai, it is advisable to go for the 3-BHK apartments, covering an area between 2750 square feet to 2850 square feet each. Priced in the range of INR 4.13 Cr to INR 4.35 Cr, the apartments will offer complete value for money.
Notable features:
Beautiful landscape and residences that are naturally ventilated and space optimised units.
Four storeys holding eight big flats.
Amenities:
Gymnasium
Swimming Pool
Intercom
Kids' play areas / sandpits
Clubhouse
Rain water harvesting
10. Brigade Residences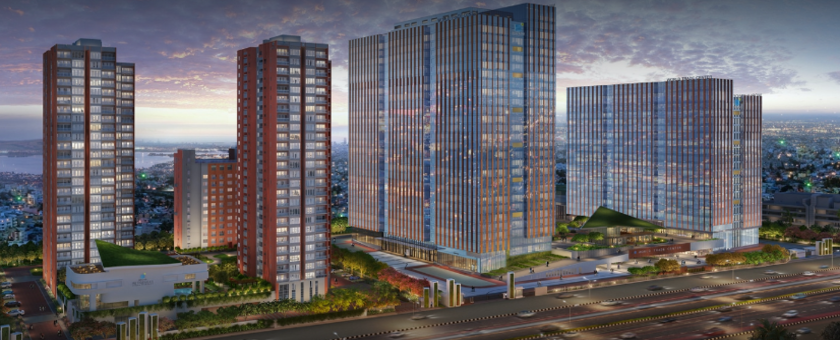 Brigade Group, one of India's premier property developers, is the force behind the Brigade Residencies project, offering some of the most ultra-luxury apartments In Chennai. It is conveniently located on Chennai's IT corridor, in Perungudi. This well-known Chennai property is an integrated neighbourhood featuring residential, commercial, and hospitality spaces. Each one is built to the greatest international standards.
Notable features:
Besides two 26-story towers, there are 298 podium-level 3-bedroom residences and 4-bedroom penthouses.
Endless sea views to the east and lake to the west.
Amenities:
Gymnasium
Swimming Pool
Courts for tennis, squash, and badminton
Regular library
Mini theatre
Spa & salon
Kids' play areas/sandpits
Clubhouse
Indoor games
Multipurpose hall, etc.
We hope this blog will help you in finding the best luxury apartment in Chennai to buy or rent.
About MyGate
MyGate is India's largest society management system, benefiting thousands of housing societies, developers, society facility managers, and millions of homeowners in every Indian city.