Feature in Focus: Validated Entries
June 26, 2019
By Team MyGate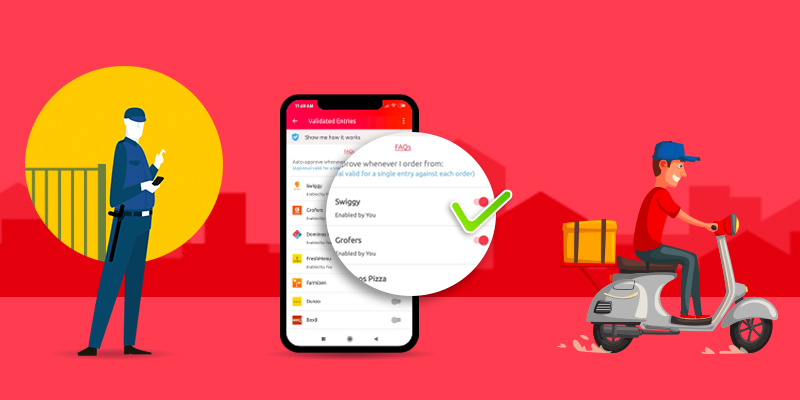 We've partnered with your favourite online delivery partners to ensure that you and your community receive background-verified details of the executive. No more fake entries and quicker deliveries for all MyGate users!
What is Validated Entries?
When a resident places an order with our partner firms, MyGate receives the background verified details of their assigned delivery executive directly from the partner firm. These details are then shared with the resident prior to the arrival of the delivery agent, and validated by the security guard.
Why We Built This Feature
Prevents fake entries: By ensuring that the information about verified delivery executives come directly from the partner firms, any potential fake entry attempt can be avoided.
Faster delivery to residents: As residents will get the option to auto-approve the delivery executive while he/she is about to reach the society gate, wait time at the gate will be significantly reduced.
How it Works
1. All residents are opted in for Validated Entries by default
2. To provide auto-approval for all future deliveries from a partner:
a. Go to 'Household' on the home screen
b. Scroll down to 'Validated Entries'
c. Add any of the partners to your list
The Validated Entries feature, therefore, brings greater security and convenience to your community. Read more about our other security features, Overstay Alert and Kid Checkout Permission.
Schedule a demo