Are you establishing social distancing rules within your community? Maybe you'd like to spread the word. But, how? Print-outs on the society notice board are sure to go unnoticed with everyone at home all the time.
Well, here's a solution. With the 'Communications' feature on MyGate, you can broadcast community updates and always keep residents aware of what's coming via bulk SMS and bulk email. The Communications feature also allows you to discuss society matters, create polls and send meeting invites, while residents can initiate and participate in need-based, in-app discussions.
What can be done with 'Communications' ?
Send Bulk SMS and Bulk Email: Available to the admins
Do you want to provide the list of essential vendors to all the residents of your society? Choose the Bulk SMS or Bulk Email feature to broadcast crucial messages to residents and ensure they don't miss out on important community updates.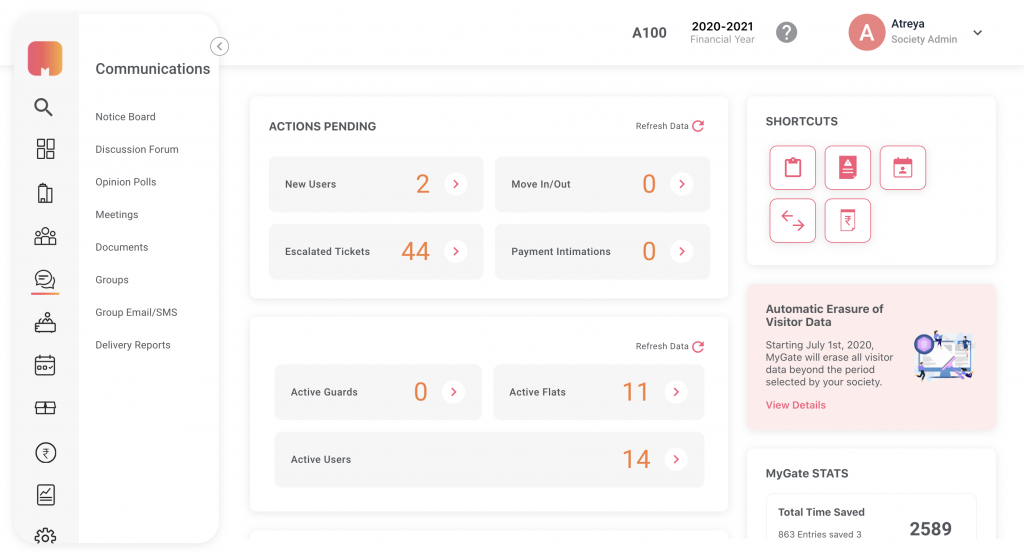 Start a Discussion: Available to admins and residents
Have ideas to maintain social distancing within the society? Check into the 'Communications' section and pen down your suggestions to start a discussion. What's more, you can also participate in other discussions, and comment on other ideas that excite you.
Are residents not following the social distancing rules implemented in the society? Don't stress! Just start a discussion in the 'Communications' section and solve this issue. Want to get in touch with a resident? The discussion forum can also be used as Yellow Pages within the society.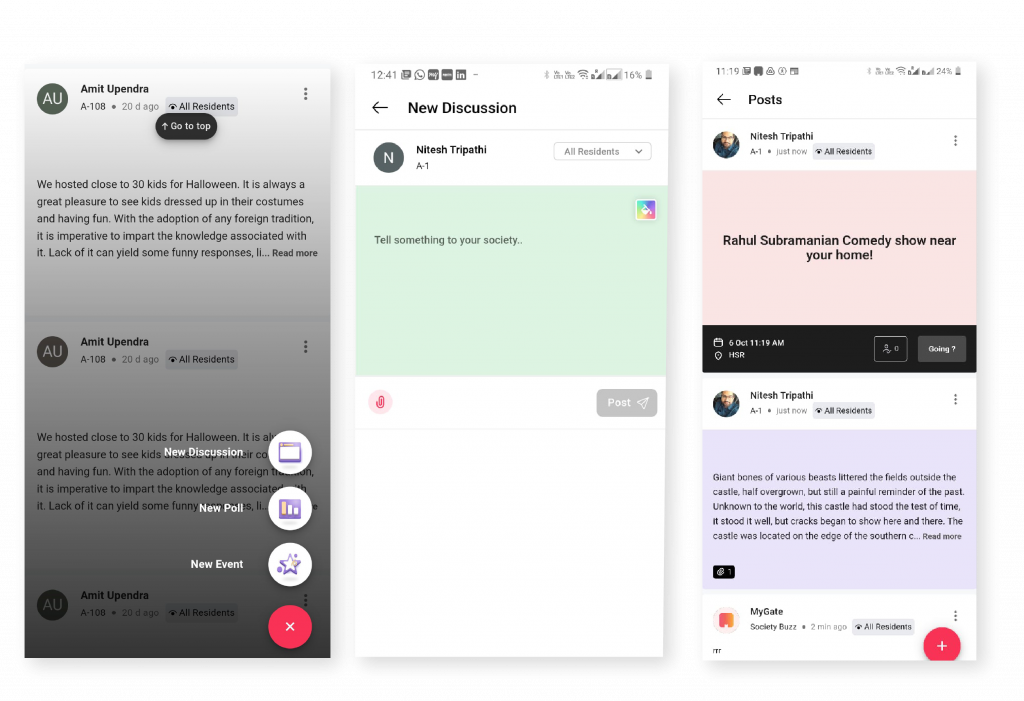 The 'Discussion Details' screen lists multiple ongoing discussions with an option to add a comment or leave a reply.
Create a Meeting: Available to the admins
Looking to call for a meeting (over Hangouts or Zoom, maybe)? The 'Meeting' feature will help you create an invite just as you would do on iCal or Google Calendar. It allows you to list the meeting description, agenda, date & time, and select groups to send it to (committee members, owners, tenants, etc)..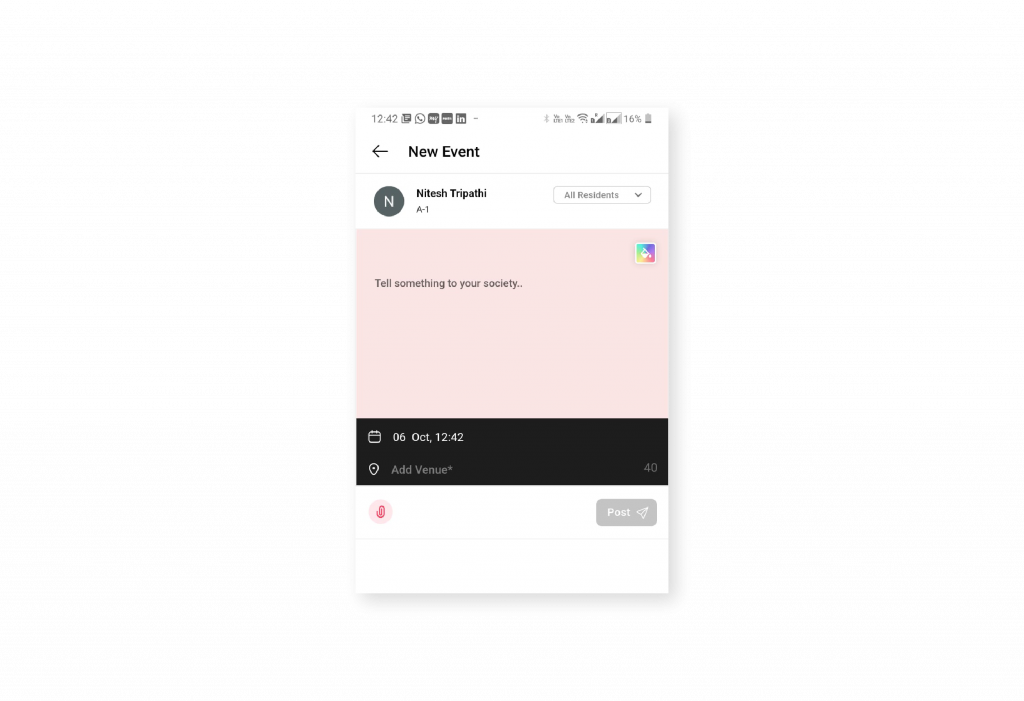 The 'Meeting Details' screen lists the meeting whereabouts such as description, agenda, venue, date and time, and attendees.
Run an Opinion Poll: Available to the admins
Create opinion polls to understand what your residents want and make quick decisions. 'Should vegetable vendors be allowed inside the community?'… run a poll and know what the residents want.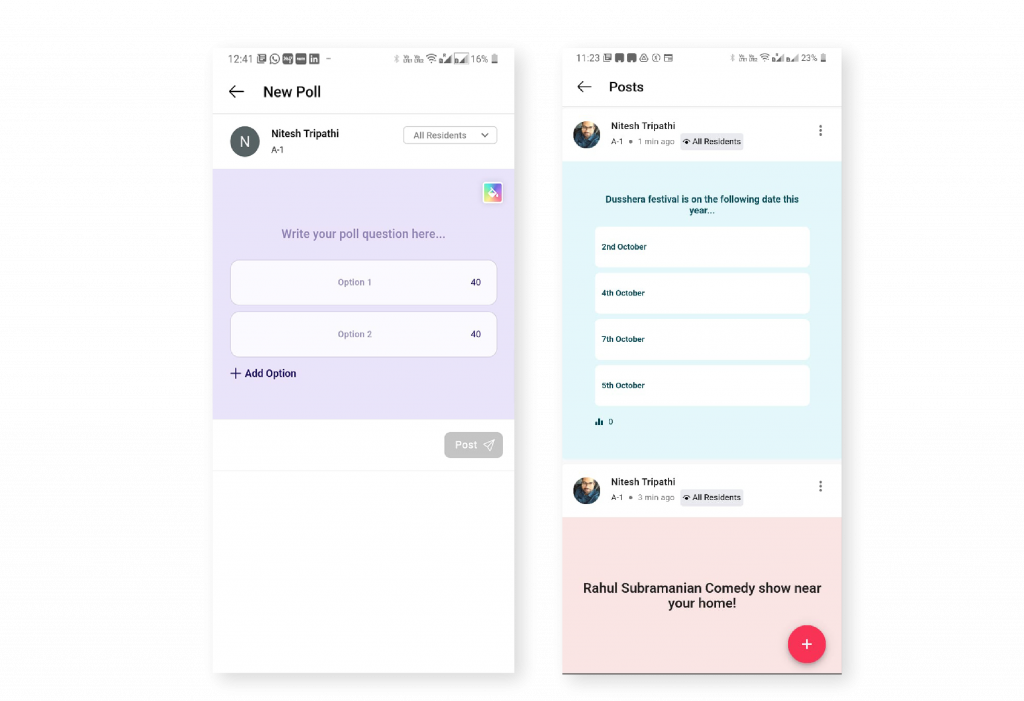 Your latest feeds on the 'Communications' screen showcasing current meetings, events, polls and discussions.
How It Works
1. Open the MyGate app;
2. Click on the 'Community' tab on the top right section of your screen and select the 'Communications' card.
3. You can either directly start a discussion by tapping the 'Start Discussion' button or choose an option from the 'Type' drop-down at the top left section of your screen.
4. As per your need, you can choose to create a meeting, start a discussion or run a poll.
5. Recent interactions are listed on the 'Communications' screen. You can comment, hide, turn down or accept meeting invites using the quick actions provided.