Collecting maintenance from society residents is a challenge faced by all Admins. And why do you exactly dread this? Because some people simply forget it every month, and some detest the idea of paying their dues. This is why MyGate has made some updates to solve this issue for you and your residents. You can now trigger notices during invoice generation to ensure that the communication reaches out to all society residents. You can also publish the list of defaulters via the Notice Board to inform all the flats about the pending dues.
How will you benefit?
1. Keep society residents up to date with invoices or any pending dues reminders using the notice board.
2. Easily generate, attach and send defaulters list to society residents on the Notice Board.
3. Reduce the number of defaulters in the society.
Invoice Notifications
How to enable the "Notice" option for invoices on the Dashboard?
Go to "Accounts"
Click on "Invoicing"
Click on "Member Invoices"
Under the "Notify Via" column of the particular invoice template, enable the "All Residents" option for the Notice.
Note: Only Admins can enable this option via the dashboard. They can also view all the notices triggered under "Communications -> Notice Board". The Notice will be triggered for all flats, even if the invoice is created only for specific flats.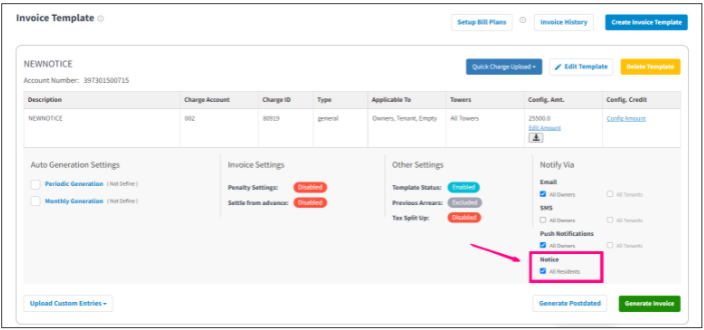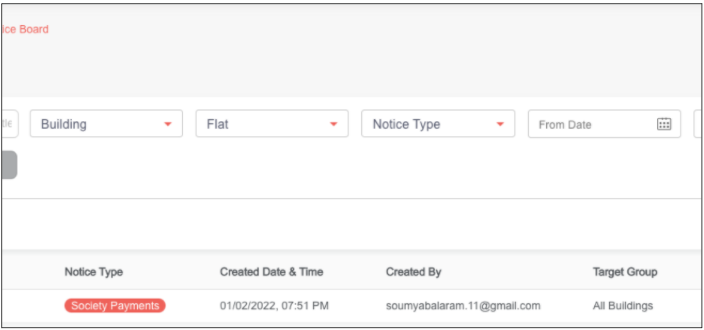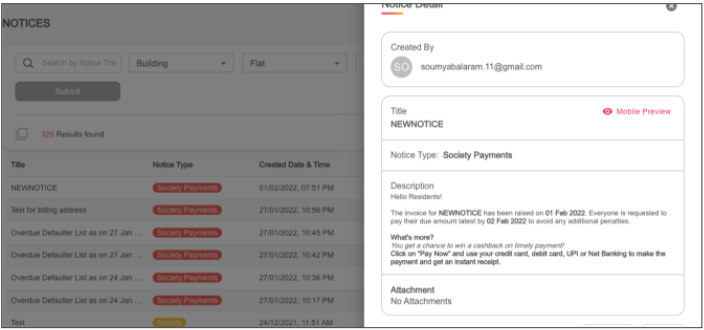 How does it work?
1. Enable this option on the dashboard. Once enabled, whenever an Invoice is generated (manually or auto-triggered), the residents will be notified via the Notice board.
2. Further, the residents can check the invoice and click on the "Pay Now" option on the Notice to make the payment.
3. Residents will be able to view the invoice as soon as it is triggered, without having to open the email or SMS.
Defaulters List
How to auto-trigger overdue defaulters notice?
Go to "Accounts"
Click on "Dues and Receipts"
Click on "Dues"
Under "Send email & SMS to all houses", scroll down to "Overdue Defaulter"
Click on the "Change" button
Select the "Notice" check-box (SMS/Email can also be selected)
Update the "Frequency" and "Start Date"
Click on "Save"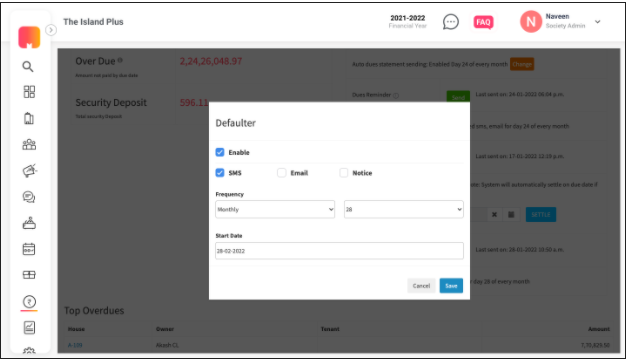 How to directly send Overdue Defaulter Notice?
Go to "Accounts"
Click on "Dues and Receipts"
Click on "Dues"
Under "Send email & SMS to all houses", scroll down to "Overdue Defaulter"
Click on the "Send" button next to "Overdue Defaulter"
Select the "Notice" check-box (SMS/Email can also be selected)
Click on "Send"