A year ago, when the pandemic hit and the world was living by the ideology of 'stay home, stay safe', MyGate worked tirelessly towards making societies safer. We developed Comprehensive Covid Management features to enhance the safety of gated communities during the pandemic.

Today, exactly a year later with the onset of the second wave of COVID, it's important we do not slack. Management Committees across the country continue to use these features to keep their societies safe.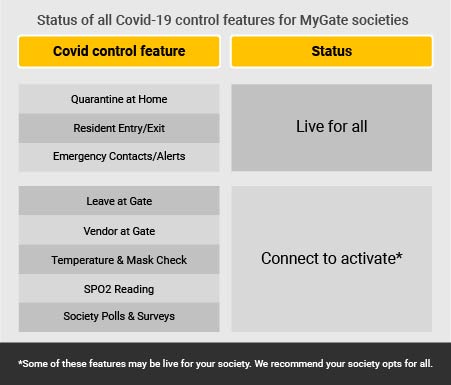 Let's learn about these features in detail:
Temperature & Mask Checks
Security guards can conduct and capture mask and body temperature checks, using a thermal gun on the app. If either of the conditions aren't met, the visitor is denied entry.

Quarantine at Home: Using this feature, society admins can identify and mark the flats where people are in quarantine for a specific time period. Admins can also relay the same information to the stakeholders associated with the management of these flats and limit exposure.

Leave at Gate: Leave at Gate enables societies to facilitate completely contactless, secure, and hassle-free delivery management. Residents will be able to choose to leave their delivery at the gate. All they need to do to collect their parcel is share a code with the guard.

Resident Entry/Exit Log: Using this feature, societies can restrict/record entry of visitors to aid contact tracing efforts. Admins can record logs, trace back if needed, and take proactive steps in case of an emergency.

Security Alert: If there is an emergency at home or in the society, residents can raise an alarm to their family and friends, including the ones who are not MyGate users, and the main gate security. The residents will be notified if someone is coming for help.

Society Polls & Surveys: Admins can now encourage digital decision-making. They can conduct society elections & surveys online on the app to make it easier for the residents to cast their votes and get instant feedback.

Vendor at Gate: Using this feature, societies can set up notifications for the arrival of vendors on the app. This helps society residents stay informed each time a local vendor with daily essentials arrives at the gate.

SPO2 Readings: Security guards can now capture the oxygen levels of residents, visitors, and service providers entering the society (using a pulse oximeter) on the app. The entry-exit reports can be checked and monitored by the admin for future discretion.