One of Bangalore's main neighbourhoods, Koramangala, is a residential area with broad, tree-lined boulevards and a mix of bungalows and commercial buildings. It is located in the city's southeast. After independence, it was intended to be a suburb, but due to its proximity to Electronic City and Bangalore, it attracted people from all over the nation when Bangalore saw a tech boom in the late 1990s. As a result, it has slowly transformed into a commercial centre. Koramangala is a well-known startup district in Bangalore.
In addition to being connected to development centres like Electronic City and Jayanagar via the Outer Ring Road and Hosur Road, Koramangala is renowned for being easily accessible. There will soon be a metro line in the region's centre thanks to the construction of the Silkboard metro line. Due to the numerous IT businesses and universities in the neighbourhood, cosmopolitan Koramangala is well-liked among young tech employees and students.
Wondering which society your future home might be in, where you can find good food, a school for your kids, or even spaces you could work out in? Read on to find out!
List of top gated societies in Koramangala, Bangalore
Every residence in this community has been thoughtfully planned to give its members the most room and comfort possible. It provides a wide range of contemporary amenities to provide the locals with what they need for urban life.
The facilities offered include a clubhouse, a gym, a pool, a children's play area, a meditation room, and many others. The builders also offer ample parking space, round-the-clock security, electricity backup, and 24-hour water supply services. This neighbourhood is near the renowned Christ University and is about 20 minutes from Trinity Metro.
Highlights & Amenities in Raheja Residency
Types of apartments: 1, 2 & 3 BHK
Area per apartment: 600- 1600 sq. ft.
In the heart of a renowned and sought-after neighbourhood, Prestige Pinewood is a high-rise residential development in Koramangala (Jakkasandara), Bangalore. The city's centre neighbourhood of Koramangala is conveniently close to both leisure areas and the IT sector.
Prestige Pinewood, which has 256 high-end apartments is situated on a great property of 2.5 acres and was designed to maximise natural light and ventilation. These houses' master plans provide the best views of the surrounding manicured parks, and the general architecture and space layout has been purposefully created to scream luxury.
Highlights & Amenities in Prestige Pinewood
Types of apartments: 2, 3 & 4 BHK
Area per apartment: 1249- 1707 sq. ft.
Kolte Floriana Estates, which is in Bangalore's Koramangala neighbourhood, is the epitome of the urban-chic lifestyle. Each Residential Apartment in the project is the pinnacle of beauty and simplicity, with a unique design.
Kolte Floriana Estates, which are surrounded by lush surroundings and have an amazing design, is situated in Bangalore's Koramangala neighbourhood. Kolte Floriana Estates is surrounded by several renowned schools, hospitals, retail malls, technology parks, and other municipal amenities so that you may spend more time at home and less time travelling.
Highlights & Amenities in Floriana Estates
Types of apartments: 2 & 3 BHK
Area per apartment: 1233- 1868 sq. ft.
4. Indus Oasis, Koramangala
Located near Koramangala is Indus Oasis. Bangalore. This is a true haven from the hectic pace of daily life. These spacious 3 BHK apartments are a blessing for the fast-paced lifestyle of today. With its cutting-edge amenities, including a gym, a backup generator, and other features, it provides the ideal lifestyle.
Indus has crafted the spirit of freedom into its living spaces while staying on top of architectural trends by laying a solid foundation of unique character, beauty, and cutting-edge technology.
Highlights & Amenities in Floriana Estates
Types of apartments: 3 BHK
Area per apartment: 2150- 2250 sq. ft.
Things to do in Koramangala, Bangalore
1. Groove at Indigo Live Music Bar & Terrace
With its excellent amenities and services, Indigo Live Music Bar & Terrace provides you with a singular experience. You are taken on a delectable journey by the genuine Italian, Continental, and seafood delicacies influenced by global cuisine. A live music bar follows, unleashing the party beast in you. The stunning setting and amazing patio chairs literally transport you to the stars. People who wish to take part in exciting and pleasant nightlife should go there. Jyoti Nivas College is the closest landmark to Indigo Live Music Bar and Terrace.
2. Eat and Play at Dice n Dine
In addition to serving customers the tastiest meals, Dice n Dine in Koramangala also has some of the best board games available. When you enter, a well-behaved staff member welcomes you. The atmosphere is well furnished with a theme based on board games, and the seats are quite comfortable. When it comes to food, this is a fantastic option for individuals who enjoy European cuisine. Their Walnut Brownie and Ferrero Shake are exquisite in both appearance and flavour. You'll undoubtedly lose heart in this situation!
3. Stay at Regenta Inn Grand
The 40-key Regenta Inn Grand Koramangala is a business hotel conveniently located near banks, IT firms, and other commercial establishments in Bengaluru's central business district. There are several eating options, including a spa, a salon, a health club, and well-equipped meeting spaces.
You may keep in contact and come and go as you choose because both the parking and the Wi-Fi are always free. You can easily access sights and excellent eating alternatives from this apartment because it is located in Bangalore's Koramangala neighbourhood.
4. Get drinks at 1522
The Pub in Bangalore's Koramangala 4th Block is a leading establishment in the field of bars. Customers from all across Bangalore may visit this well-known business, which serves as a one-stop shop. This company has developed a strong presence in its sector during the course of its development.
This business has a large client base that is always expanding because they firmly believe that customer pleasure is just as vital as its goods and services. The Pub in Koramangala 4th Block offers a broad variety of goods and/or services. This establishment's staff members are kind and quick to offer any assistance.
5. Enjoy luxury stay at Grand Mercure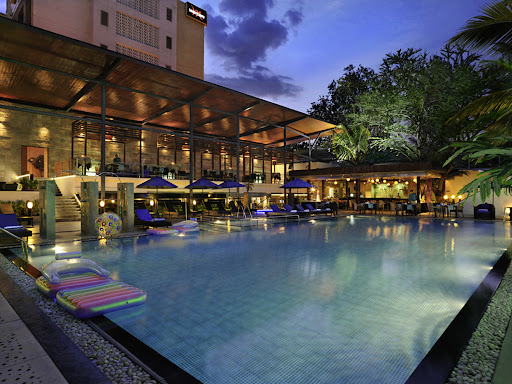 The unique luxury all-suite Grand Mercure Bangalore offers the pinnacle of luxury travel for extended-stay business travellers. A variety of in-room amenities are available in the 126 elegantly built suites for hassle-free long stays. All of the suites are bright and roomy and include their own terrace that is ideal for morning coffee. You won't miss out on preparing your favourite dishes thanks to the kitchenette. The suites are well equipped and provide all visitors with a practical and comfortable setting.
6. Try Mexican food at Chintia
The greatest Mexican cuisine in town is served there! The grilled chicken and braised pork burrito bowl, grilled braised pig tacos, red pepper soup, almond horchata, and fresh lime soda are just a few of the highlights. The statement that everything merits a perfect 5 stars is not an exaggeration. Their cuisine is always distinct and delicious! The staff is kind and accommodating. Overall, a great, calm spot to visit when you want real Mexican food rather than Taco Bell.
7. Visit The Hole In The Wall
An iconic, storied all-day restaurant serving breakfast, lunch, and supper. Burgers, spaghetti, sandwiches, breakfast items including waffles and pancakes, as well as drinks, are available. For any meal of the day, this is the place to go! A beloved Namma Bengaluru place! This coffeehouse gives the impression that you are inside a modest Goan home. The excellent omelette and fluffy waffles are a must-try.
Places to explore in Koramangala, Bangalore
1. Sony World Junction, Koramangala
You will never get bored here, that's for sure! Visit the Wildcraft showroom to get some stylish camping equipment. They also sell tents, so you could want to get one, set it up at the Sony World Signal, and do business from there. At the crossroads, traffic is always at its busiest. But fortunately, when nightfall approaches, all these little eateries appear, Ramji's being one among them. As you are in for snacks you can't just eat once, you wouldn't mind forgoing the cab or the car.
2. The Forum Mall, Koramangala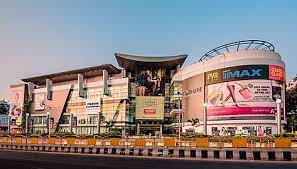 This shopping centre is a one-stop shop for food, pleasure, and fashion.
Top brands for men and women include Aeropostale, Adidas, and United Colors of Benetton at Bangalore's Forum Mall in Koramangala, one of the city's oldest shopping centres. A fun spot with lots of things to hang out with friends. The food court is adequately stocked and the multiplex is nice and well-maintained. Worth taking advantage of a weekend filled with alternatives.
3. The Oriental Haveli, Koramangala
This is a good location to shop with many selections to select from for a range of products at various pricing points. This is a good art gallery and may be termed a museum. It is in the city proper, at Koramangala. A visit to this location is a necessity if you enjoy art. Take a stroll down this bustling street to find amusing experiences at cultural centres and bookstores, a variety of performances at live music bars, including acoustic nights and karaoke evenings, bowling at breweries, and amazing shopping deals.
4. Riddle Room, Koramangala
The Riddle Room is a live escape room, a type of interactive physical game where players are imprisoned within an area and must find clues, look closely at everyday things, and get rid of ruses in order to successfully escape the room in 60 minutes. The encounter begins with a description of the game and the task by our game-master. Then the door is shut and the countdown starts. Players have 60 minutes to figure out a series of riddles, crack codes, and escape the chamber using various room items.
5. Atta Galatta, Koramangala
Atta Galatta values culture greatly. Which proof? Over 10,000 books in Kannada, Tamil, Telugu, Malayalam, Hindi, Bengali, and English are available there. The area is humming with creative activities on the weekends, but that isn't all of it. Poetry, book readings, storytelling, theatre, movie screenings, and kid-friendly workshops are all available. Events take on a deeply deep and intimate air in that environment, amid the books, readers, and bohemians. Oh, and the food, too. The straightforward menu, which includes burgers, sandwiches, samosas, cutlets, (pure South Indian) coffee, tea, and juice, very much covers all the bases.
6. Spice Girls, Koramangala
Take care of that shoe fetish with this popular ladies' footwear store in Koramangala. With the exception of the high-end labels and price tags that are "for your eyes only", entering Spice Girls will make you feel as though you've entered Carrie Bradshaw's wardrobe. Spice Girls has helped clients in times of emergency, even when the newest styles weren't readily available elsewhere. The Instagram-famous gladiators, white sneakers, moccasins, ballerina flats, boots, and sliders are just a few of the many shoe options available.
FAQs about Koramangala, Bangalore
What is the distance from Koramangala to the Airport?
The travel distance or driving distance between Koramangala and Bangalore Airport is 39.7 kilometres.
What is the nearest bus station to Koramangala?
The Madiwala Checkpost stop is the nearest one to Koramangala
Is there any metro station in Koramangala?
The nearest metro station to Koramangala is Jayanagar Metro Station. The distance between Jayanagar Metro Station to Koramangala is 3 km only. 
Is Koramangala a posh area?
Koramangala is a preferred residential hub because of the presence of excellent social infrastructure, sound physical connectivity, and many businesses operating within and near the town
What are the best hospitals in Koramangala?
The best hospitals in Koramangala are Apollo Spectra Hospitals, Marvel Multispeciality Hospital, Acura Speciality Hospital, Manipal Hospitals, and Ayu Health Hospitals.
What are the best gyms in Koramangala?
If you're a fitness freak you can visit Iconic Fitness, Cult Fit, The Workouts, The Fit District, and Euro Fit Gym.